Life Insurance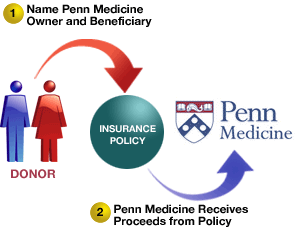 How It Works
You can provide now for a future gift to Penn Medicine by naming Penn Medicine as owner and beneficiary of a fully paid-up whole life policy insuring your life.

Penn then cashes out the policy and applies the proceeds to the program you have designated.
Benefits
You can make a significant gift from an unneeded asset.

You build the future financial strength of Penn Medicine.
For More Information
E-mail or call us at 215-898-9486.