Happenings in the lab -
June 2018: Summer has come —
Starting to get warm in Philly! Been a busy spring — the lab was recognized by the Department of Medicine with the Holmes Award for our work on nuclear architecture and cellular identity. Also, welcome Piyush!
March 2018: Competent for commitment —
Awesome Keystone meeting on gene regulation and chromatin architecture — and wonderful to hear great feedback about our work. Also, check out the review in G&D Raj co-authored in which the concept of "chromatin competence" is introduced.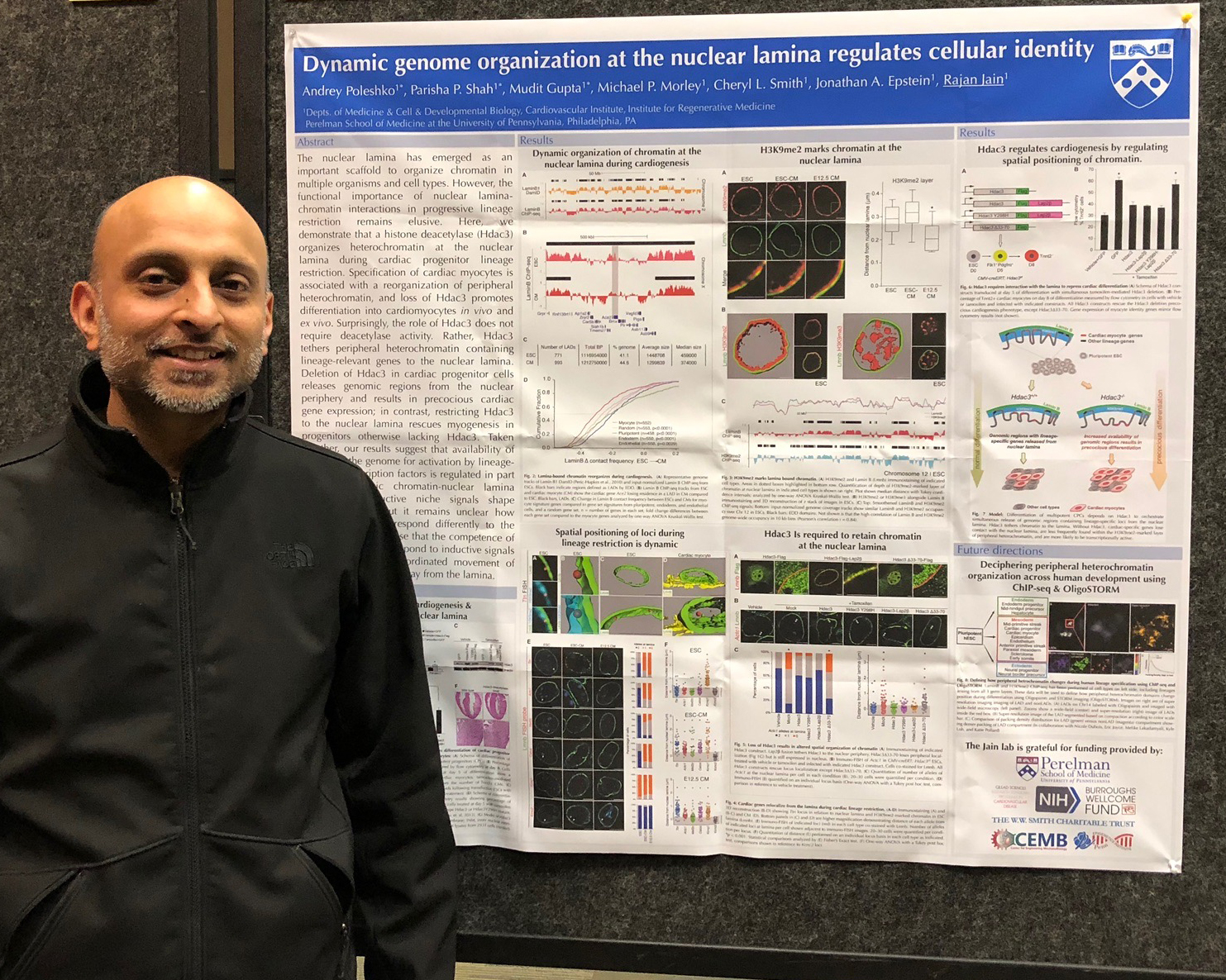 Jan 2018: Good start to the New Year!
Raj was invited to give talks at the AHA Scientific Sessions & Keystone Meeting focused on heart failure — great to promote the lab and our work. In addition, the lab was awarded a grant from the Gilead Sciences Research Scholars Program; we're incredibly grateful for the support. Also, welcome to Josh Rhoades, our new bioinformatician, and Aaron Weiner who is rotating in the lab!

Oct 2017: BIG NEWS!
It's been in the works for quite a while, and took a lot of hard work from many— but our paper just came out online in Cell. Congrats to everyone involved, especially to Parisha, Andrey, Mudit, and Cheryl! Read the press release here and check out the video describing the work:
Amazing work P!
Sept 2017: Getting back to roots —
Paper published AND we got the cover! Haig's data demonstrate an interesting relationship between cardiac neural crest and transposition of the great arteries. Read it here.
Great work Haig!
June 2017: Welcome!
Sarshan Pather, a Penn MD/PhD student, is joining the lab for a rotation. Also, Ricardo was appointed to the CEMB training grant. Congrats Ricardo & welcome Sarshan — though what's up w/ the Gap bag?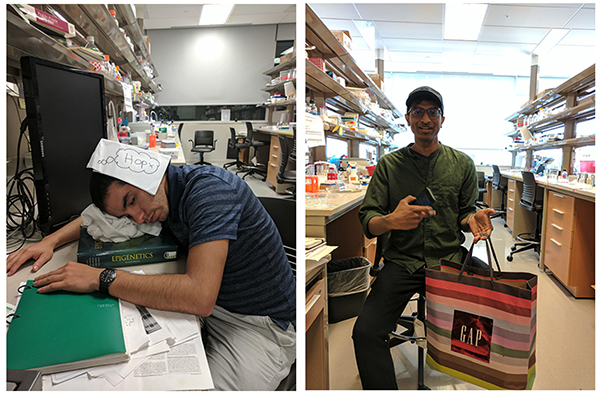 March 2017: Busy!
Vimal Ramjee, a fellow alum of the Penn Cardiology fellowship, led studies to uncover the role of Yap/Taz in the epicardium which were published in the JCI. Really cool findings regarding the cross talk between the heart and specific aspects of the immune system in the post-infarct state. Check out the work featured by Penn Medicine here or here.
Raj and his recent work was also featured in the Penn Medicine Blog as part of the recent Heart Month, see the piece here.
February 2017: Beautiful paper and work by Nicole Dubois and her lab.
So happy to contribute to these efforts & work with Nicole and her lab on some exciting work not ready for prime time...just yet.

January 2017: Welcome Ricardo!
Ricardo had a great time during his rotation and is pursuing his thesis work in the lab, welcome Ricardo!
December 2016: Good News & Happy Holidays!
Raj is awarded a grant by the WW Smith Charitable Trust to facilitate efforts on Hdac3 during cardiac development. The lab also went out to lab staple, Han Dynasty, to celebrate the holidays.
November 2016: Welcome!
Third year Penn MD-PhD student Ricardo Linares Saldana joins the lab for a rotation. Welcome Ricardo!
August 2016: Summer goes quick...
Lunch at Han Dynasty as it was Nick's last day in the lab this summer...at least for now — he's headed off to start med school at Penn — so he won't be far!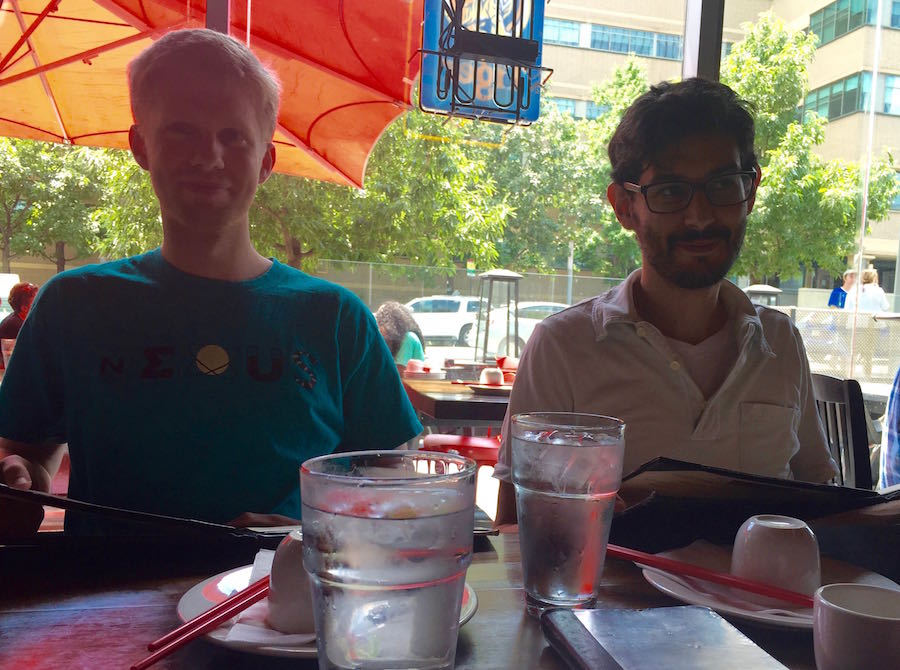 July 2016: First sequencing run in lab —
let the adventures begin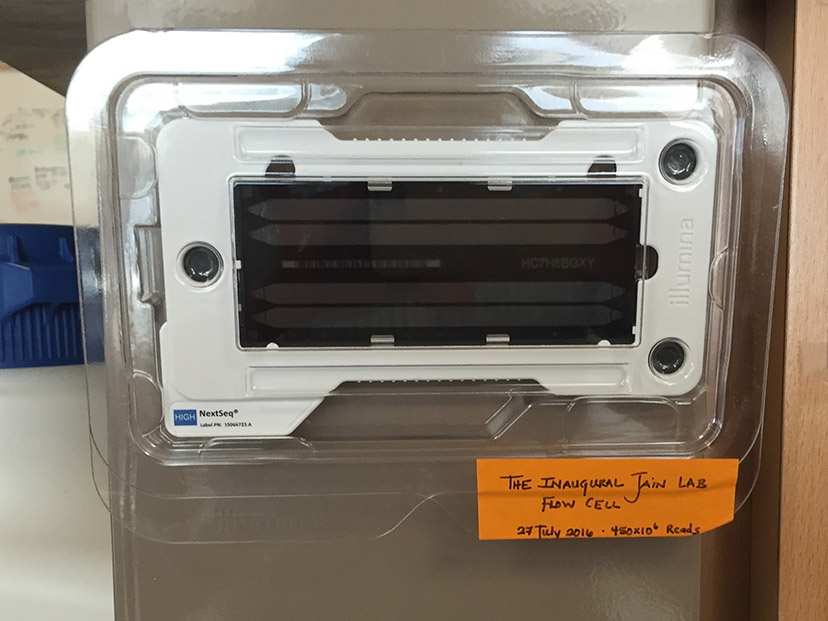 July 2016: Amazing new paper spearheaded by Kyle Loh, Angela Chen, Lay Teng Ang, and Irv Weissman — Happy to have made a contribution towards this Herculean effort and be a part of a wonderful collaboration. Take a look at the really well-done video abstract:
May 2016: CSHL
Raj gives a talk at the CSHL meeting on Nuclear Architecture about a cool unpublished story about genome organization during heart development.
May 2016: New Folks
Nick Rizer and Parisha Shah join the lab!
April 2016: Moving In
Space ready in Smilow TRC & we're moving in — (and Qiaohong has already set up her bench!)

March 2016: The Beginning
After years of training — Raj is named an Assistant Professor at Penn & the lab is established. Let the adventures begin — it should be a fun ride!