Areas of Focus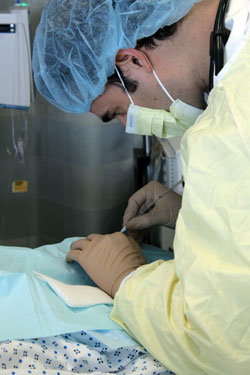 Our strategy is to create an integrative, interdisciplinary platform to advance scientific discoveries that arise both in the lab and patient populations toward the ultimate goal of new knowledge that impacts patient care. We will integrate our clinical expertise, patient populations, and clinical samples from patients with advanced lung diseases (e.g., lung transplantation, lung fibrosis, chronic obstructive pulmonary disease (COPD), cystic fibrosis, pulmonary vascular diseases) and critical illness syndromes (e.g., acute lung injury, sepsis, delirium, kidney injury, major trauma) with our bench expertise to conduct state-of-the-art cellular, molecular, and animal translational studies. This approach will facilitate a better understanding of the pathogenesis of lung diseases and allow us to develop novel therapeutics and biomarkers to better diagnose, prognosticate, and molecularly classify diseases. Specific themes to actualize this mission include:
Provide an integrative, interdisciplinary approach to better diagnose, molecularly classify, treat, and understand the mechanisms of advanced lung diseases and critical illness syndromes.
Redefine lung disease and critical illness syndromes based on biological phenotypes to facilitate novel treatment paradigms.
Provide a disease-themed platform for human translational mechanistic and epidemiological research on lung transplantation, pulmonary fibrosis, chronic obstructive pulmonary diseases (COPD), pulmonary vascular diseases, sepsis, acute lung injury, and major trauma. Integrate critical care and lung-themed immunology, molecular biology, physiology, pharmacology, and clinical and basic research throughout the campus.
Thematic Interest Groups
Critical Illness
ILD
Transplant
Pulmonary Hypertension