Program Overview
Program History
Program History
Henry K. Pancoast, MD became the first Professor of Roentgenology in the United States in the Department of Surgery at the Hospital of the University of Pennsylvania (HUP) in 1912. Dr. Pancoast was a pioneer in using x-rays to treat leukemia and Hodgkin's disease and helped lead Philadelphia medicine and American radiology for four decades until his death in 1939.
In 1939, Radiology was established as an independent department of the University of Pennsylvania School of Medicine, emerging from the Department of Surgery.
The Department of Radiation Oncology was established in 1977 as an outgrowth of the Departments of Surgery and Radiology. Dr. Stanley Baum, who was appointed the fifth Chair of Radiology in 1975, noted the national movement toward the separation of diagnostic and therapeutic radiology and proposed to separate radiation therapy into a new, independent department.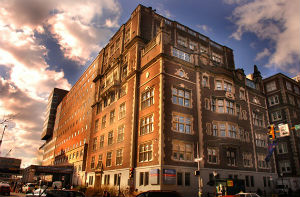 In 1977, Dr. Robert Goodman was recruited from Boston to become the first Chair of the new Department of Radiation Oncology. Under his leadership, HUP became the first hospital in the Delaware Valley to offer breast conserving surgery with adjuvant radiation therapy and to investigate radio- and chemoprotectors.
Dr. W. Gillies McKenna followed as department Chair in 1991. Under Dr. McKenna's leadership, the Department of Radiation Oncology greatly expanded its missions of education, research and clinical services. From 1991 to 2004, the Department grew from eight to over 35 full-time faculty. The Department of Radiation Oncology (combined with the Department of Radiology) became ranked first in its specialty in NIH research awards in all but one year of Dr. McKenna's tenure as department chair.
Dr. Stephen M. Hahn was appointed as Chair of the Department of Radiation Oncology in 2005. Dr. Hahn brought outstanding credentials as a clinician, investigator, and educator when he first joined the faculty in 1996, after having served as Senior Investigator at the National Cancer Institute. Dr. Hahn's training included internal medicine at the University of California, San Francisco, where he served as Chief Resident, medical oncology fellowship and radiation oncology residency at the National Cancer Institute (NCI), which enabled him to lead the department in bridging multiple cancer treatment disciplines.
In July 2015, Dr. James Metz was named as the fourth official Chairman of the Department of Radiation Oncology. Dr. Metz led the development and commissioning of the Roberts Proton Therapy Center and through his collaborative and inclusive leadership style, helped to establish it as one of the premier proton therapy centers in the world. As the longtime editor in chief and now Executive Director of OncoLink, the award-winning online source for cancer information, Dr. Metz also pioneered the use of online cancer survivorship care plans and web-based cancer education.
Significant Milestones for Penn's Department of Radiation Oncology and Medical Physics Residency Program
| YEAR | MILESTONE |
| --- | --- |
| 1977 | Department of Radiation Oncology established at Hospital of University of Pennsylvania (HUP) |
| 1991-2004 | Department of Radiation Oncology quadruples its faculty (to 35 members) and is ranked first in its specialty in NIH research awards |
| 2007 | Medical Physics Residency Program initiated under Richard Maughan, PhD (Director of Medical Physics); Stefan Both, PhD becomes first program director |
| 2008 | Department of Radiation Oncology moves from HUP to Perelman Center for Advanced Medicine (PCAM) |
| 2009 | CAMPEP accredits Medical Physics Residency Program |
| 2010 | Roberts Proton Therapy Center opens |
| 2011 | Department performs first pencil beam scanning proton treatment |
| 2014 | CAMPEP reaccreditation for Medical Physics Residency Program; Department acquires first clinical cone beam CT system for proton therapy |
| 2015 | Kevin Teo, PhD, becomes Program Director of the Medical Physics Residency Program |
| 2017 | Shibu Anamalayil, MS, becomes Associate Director of the Medical Physics Residency Program; Department is the first to treat a patient using the Varian Halcyon™ system |
| 2019 | CAMPEP reaccredits Medical Physics Residency Program |
| 2020 | Taoran Li, PhD, becomes Program Director of the Medical Physics Residency Program |