A Message from the Chair of Radiation Oncology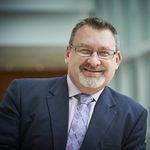 If you are a senior medical student with a strong commitment to hands-on care of patients, an excellent academic record and demonstrated interest in a career in oncology, we invite you to apply to Penn Radiation Oncology's Residency Program. We offer our residents the highest quality training in clinical medicine, research and patient care in a vibrant university-based community.
Penn Medicine's Abramson Cancer Center is a recognized national and international leader in developing and implementing today's most innovative and effective approaches in oncology, from cutting-edge surgical techniques to immunotherapy and beyond. Within this energizing environment lives one of the most comprehensive radiation oncology programs in the world, with a full range of treatment modalities and a diverse patient population and case mix. Our faculty and administration are committed to making your residency experience an excellent one while you are here and assuring that you are fully prepared to engage in whatever career path you choose.
The breadth and depth of Penn Radiation Oncology allows us to provide our residents with the opportunity to develop expertise in every modality. As a Penn resident, you will work with the top people in the field, including faculty mentors, to further develop your specific interests. You will be part of a team that is committed to collaboration, multidisciplinary care and clinical excellence. You will also be part of the Penn community, a vast network that opens the doors to experiences with other top graduate schools, centers of excellence and academic departments throughout the University and beyond. And you will live in Philadelphia, one of the country's most exciting cities, with an abundance of metropolitan amenities in an affordable and welcoming setting.
News
2021 Resident Research Award

CONGRATULATIONS TO THE 2021 RESIDENT RESEARCH AWARD RECIPIENTS: Shwetha Manjunath, MD and Christopher Wright, MD