Apply for Residency Program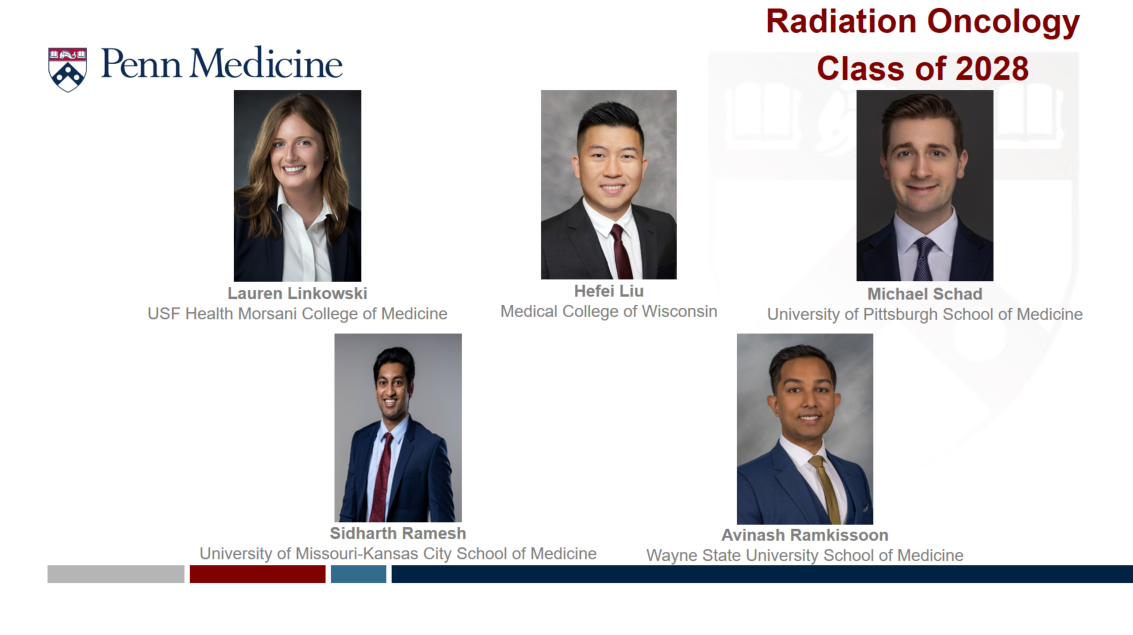 INTERVIEW DATES (In-Person):
Monday, 12/4/2023
Wednesday, 12/13/2023
Monday, 1/8/2024
The Penn Radiation Oncology Residency Program is a five-year commitment. We are a categorical program, meaning that all our residents complete their PGY-1 internal medicine intern year at Penn before starting the 4-year radiation oncology residency. When applying, you will not need to interview separately with the Department of Medicine.
You can submit your application via the Electronic Residency Application Service (ERAS) program. We are accepting applications through October 9, 2023.
When you apply, we ask you to please provide:
A personal statement: tell us why you have chosen radiation oncology, describe your professional goals, and discuss the qualities and experiences that distinguish you as an applicant. Please explain any interruptions in your education. If you are currently in a residency program in any discipline or have an obligation to a residency program, please indicate this and explain why you have decided to change your position. We get to know you through the personal statement, and we read each personal statement carefully.
Medical student performance evaluation (aka Dean's letter)
2 to 4 letters of recommendation. These can be from anyone who knows you well (i.e., they do not all need to be from radiation oncologists). One letter must be from your medical school's Department of Medicine (either department chair, clerkship director, or faculty member of the medicine department).
Our program will consider an appropriately qualified applicant with J-1 visa sponsorship through EFCMG. Also, our program will consider filing an H-1B petition on behalf of an appropriately qualified applicant.
For the 2023-2024 application cycle, we anticipate 5 open residency positions. We will interview approximately 30-40 candidates. Prospective candidates will be contacted via email through ERAS by Marlene Kromchad and invited for an interview.
Please note:
The University of Pennsylvania Health System stopped hiring tobacco users in an effort to improve the overall health of the workforce while reducing health care benefit costs. Each individual seeking employment at the University of Pennsylvania Health System, including in any GME program, is required to attest that they are not a tobacco user. A tobacco user is an individual who uses cigarettes, chewing tobacco, snuff, cigars, etc. regardless of the frequency of use.
All University of Pennsylvania Health System employees must be vaccinated against SARS CoV-2 (COVID-19) prior to employment and subsequently, as determined necessary and communicated to you by Penn thereafter, and influenza (annually), unless granted a medical or religious exemption. Do not rank Penn for the match if you are not willing to be vaccinated as described above.
Welcome to Penn Medicine Graduate Medical Education
Penn Medicine Facts and Figures

"Meet the Family" virtual sessions, for applicants.
The sessions scheduled are listed below. All are from 7:00-8:00 pm EST.
November 1st
November 14th
November 29th
December 5th
December 19th
January 2nd
January 16th
January 30th
The purpose of these sessions is for URM applicants to have an opportunity to meet and talk with members of our GME community.
Please register via the link below.