Welcome to Penn's Center for Resuscitation Science
The Center for Resuscitation Science based in the Department of Emergency Medicine at the University of Pennsylvania is dedicated to research and training that will save the lives of people who suffer cardiac arrest and shock.
To accomplish this mission, we have brought together a diverse team of scientists, clinicians, and engineers focused on understanding the molecular mechanisms of death and reanimation in an environment designed to catalyze the translation of new discoveries into optimized patient care.
Learn more about the Center for Resuscitation Science. »
---
2015 AHA Guidelines Update for Post-Arrest Care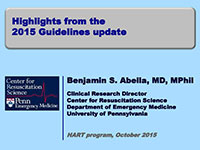 Highlights from the 2015 Recommendations for Post-Cardiac Arrest Care from the American Heart Association include:
Class I (strong) recommendations for:

TTM to treat comatose post-cardiac arrest patients suffering OOH VF/pulseless VT (LOE B-Randomized)
TTM to treat comatose post-cardiac arrest patients suffering non-VF/pulseless VT ('non-shockable') rhythms and IHCA (stronger recommendation than the 2010 guidelines) (LOE C-Expert Opinion)
Selection and maintenance of a constant temperature within the range 320C and 360C (LOE B-Randomized

Class IIa (moderate) recommendation for TTM to be maintained for at least 24 hours after reaching target temperature (LOE C-Expert Opinion)
Class IIb (weak) recommendation that it may be reasonable to actively prevent fever in comatose patients (LOE C-Limited Data)
Class III (moderate — no benefit) recommendation against routine pre-hospital cooling of patients after ROSC with the rapid infusion of cold intravenous fluids. (LOE A)
For more information, visit https://eccguidelines.heart.org/wp-content/uploads/2015/10/2015-AHA-Guidelines-Highlights-English.pdf
---
The Mobile CPR Project - Philadelphia
Over 10,000 trained in the Philadelphia region!
After sucessfully training over 5,000 residents of Hartford, CT in cardiopulmonary resuscitation (CPR), the Center for Resuscitation Science has brought the project home to PHILADELPHIA. But, we can't do it without your help. Your donations will help our center provide life-saving training to members of our community who would never receive it otherwise. For more information and to donate, visit the PennGiving Page for the Mobile CPR Project Fund.
Fundrasing to support this project was inspired by a cardiac arrest survivor who supports the Mobile CPR Movement. To learn more about the Mobile CPR project, see our video here.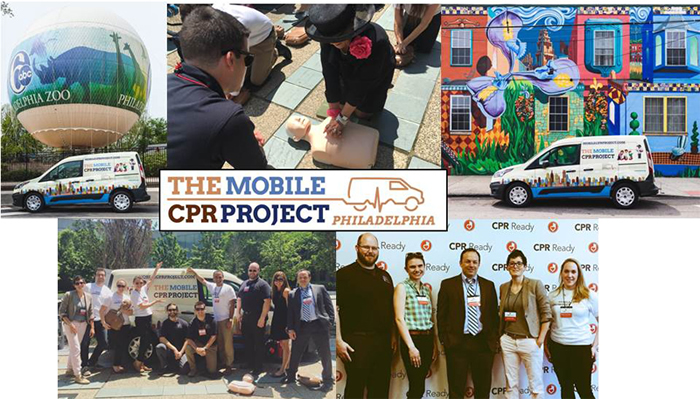 ---
A Survivor's Story: Saved From Sudden Cardiac Arrest With CPR and Therapeutic Hypothermia
Zach Conrad: Avid cyclist, cardiac arrest survivor, and bystander CPR/AED training advocate. Zach suffered a sudden cardiac arrest in June of 2012. Immediate bystander CPR, rapid defibrillation, and transfer to Penn for targeted temperature management (TTM) made an large impact on his survival. You can watch him tell his story here. In August of 2016, Zach spoke with NPR's The Pulse about his experience. Listen here: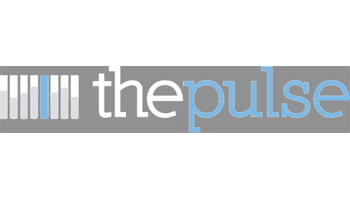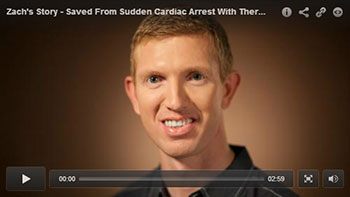 ---
Penn interpretation of the European TTM (33°C vs. 36°C) trial
An important new clinical trial was just published in the New England Journal of Medicine, evaluating two different "doses" of post-arrest targeted temperature management (TTM). This trial has generated much interest from hospital providers of post-arrest care. Our CRS faculty have met to determine our position on the issues generated by the trial; a discussion of these issues can be found at the following link: watch video on TTM trial commentary
In response to the recent European TTM trial, International Resuscitation group posts interim guideline statement.
---
UPHS AED Training Video
Center for Resuscitation Science Staff, together with the Clinical Emergencies Committee at the Hospital of the University of Pennsylvania, have put together a short video on how to use an Automatic External Defibrillator (AED.) Anyone can learn how to use an AED and help to save a life in an emergency situation!
---
Strategies to Improve Cardiac Arrest Survival: A Time to Act - The IOM Report
The Institute of Medicine conducted a study on the current status of, and future opportunities to improve, cardiac arrest treatment and outcomes in the United States. This report examines the complete system of response to cardiac arrest in the United States and identifies opportunities within existing and new treatments, strategies, and research that promise to improve survival and recovery of patients.
http://iom.nationalacademies.org/Reports/2015/Strategies-to-Improve-Cardiac-Arrest-Survival.aspx
---
Tweets Penn_CRS