Upcoming IOA Events
Joseph A. Pignolo Award in Aging Research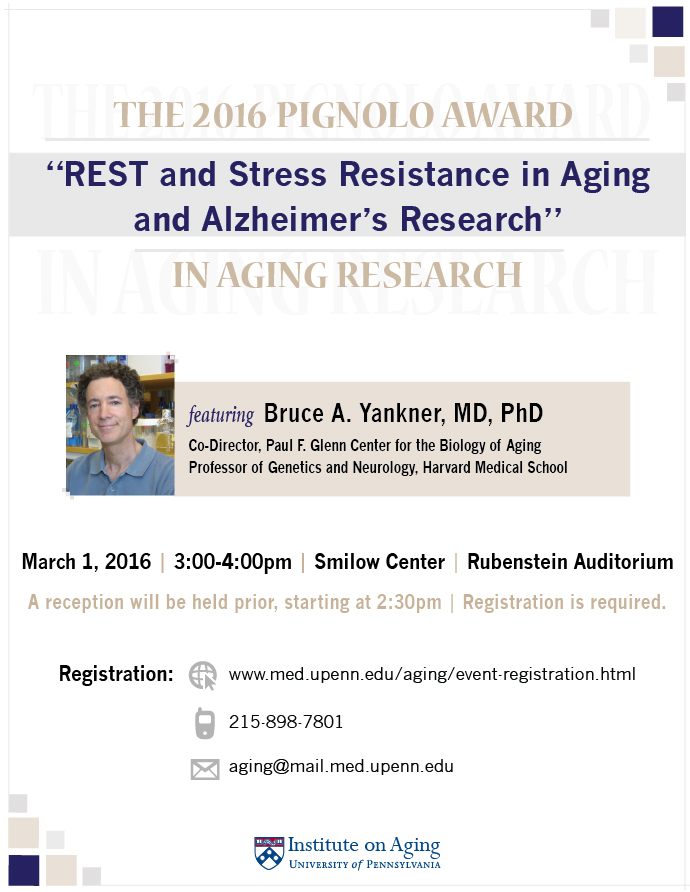 "REST and Stress Resistance in Aging and Alzheimer's Research"
Bruce A. Yankner, MD, PhD
Tuesday, March 1, 2016
3:00 — 4:00pm | Reception will start at 2:30pm
Smilow Center for Translational Research
Arthur H. Rubenstein Auditorium
Register Now
More Events
"The Epigenetic Clock and Biological Age"
April 12, 2016
Steve Horvath, PhD, ScD
Location: Biomedical Research Building (BRB) Auditorium & Lobby
Time: 3:00 - 4:00PM
---
Sylvan M. Cohen 2016 Annual Retreat
"To Sleep, per chance to age… (and avoid Alzheimer's disease)"
June 8, 2016
Keynote Speaker: David M. Holtzman, MD
with additional Penn presenters
Location: Smilow Center | Auditorium and Lobby
Time: TBD
Co-sponsor: Penn Center for Sleep and Circadian Neurobiology
---
​* Topics are tentative. Please check back closer to event date for confirmed talk title.
​* Online registration for each event will open no earlier than one month prior to the date.
---
© The Trustees of the University of Pennsylvania | Site best viewed in a supported browser. | Site Design: PMACS Web Team.