Upcoming IOA Events
The 2016 Joseph A. Pignolo Award in Aging Research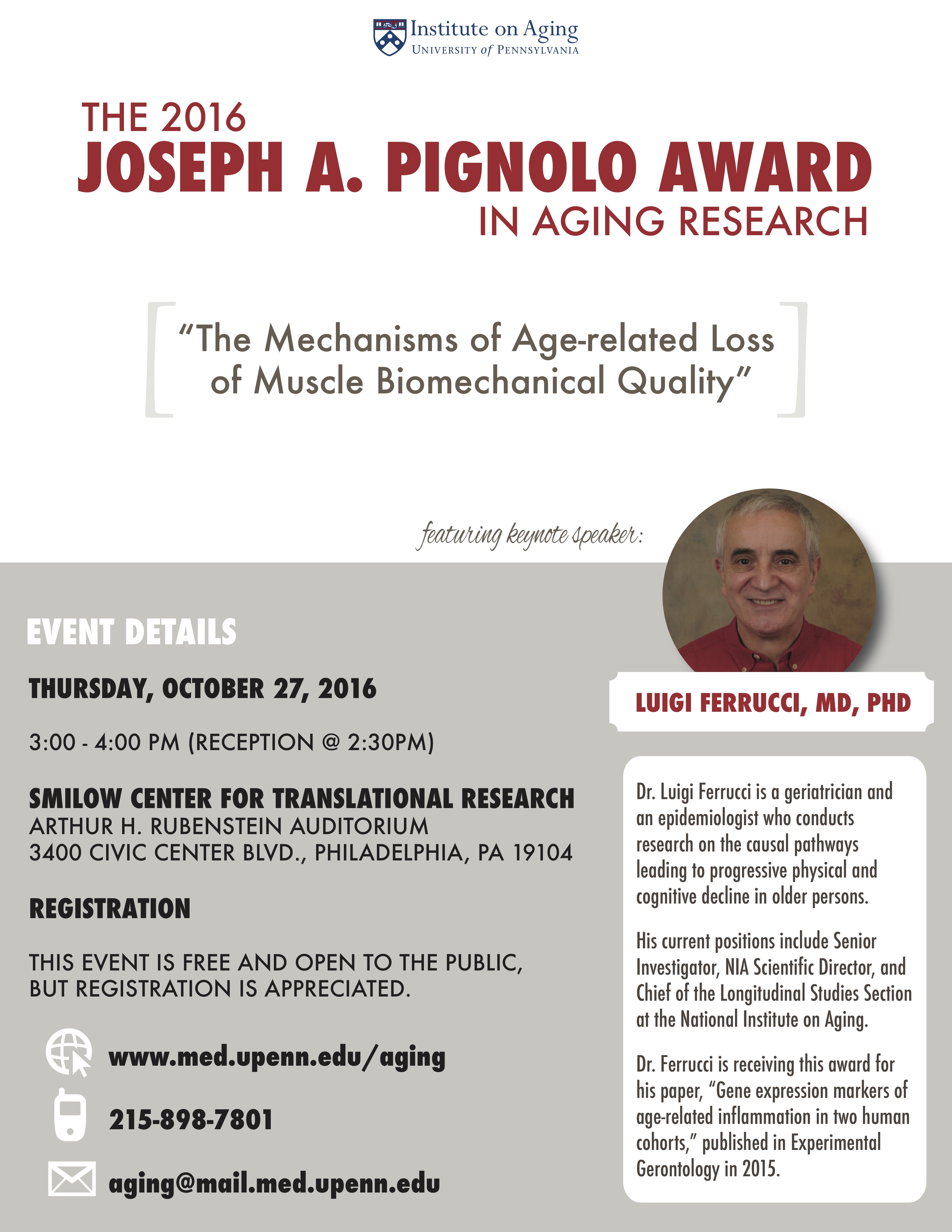 Thursday, October 27, 2016
3:00 — 4:00pm | Reception to begin at 2:30pm
Smilow Center for Translational Research
Keynote Speaker: Luigi Ferrucci, MD, PhD
Senior Investigator, NIA Scientific Director; Chief, Longitudinal Studies, Harbor Hospital
Talk Title: "The Mechanisms of Age-related Loss of Muscle Biomechanical Quality."
Full event flyer.
Register Now
Mark your calendars for our future events ...
Visiting Scholar: Stephen Salloway, MD, MS
Tuesday, November 15, 2016
3:00 — 4:00pm
Smilow Center for Translational Research
Talk title: "Developing Breakthrough Treatments for Alzheimer's Disease."
Dr. Salloway is visiting from Brown University.
---
The 2016 Vincent J. Cristofalo Lectureship and Reception
Tuesday, November 29, 2016
3:00 — 5:00PM
Smilow Center for Translational Research
Keynote speaker: S. Jay Olshansky, PhD, School of Public Health, University of Illinois at Chicago Division of Epidemiology and Biostatistics
Talk Title: "The Longevity Dividend"
---
Visiting Scholar: Aubrey de Grey, PhD
Tuesday, December 6, 2016
3:00 — 4:00pm
Medical Alumni Hall
Talk Title: "Rejuvenation biotechnology: postponing ill-health via comprehensive damage repair"
Dr. de Grey is visiting from the SENS Foundation.
---
Visiting Scholar: Edward Marcantonio, MD, SM
Tuesday, April 18, 2017
3:00 — 4:00pm
Biomedical Research Building
Tentative Topic: Delirium
Dr. Marcantonio is visiting from Harvard Medical School.
---
Visiting Scholar: Lisa Barnes, PhD
April/May 2017: Date TBD
Time TBD
Tentative Topic: Risk factors for Alzheimer's disease and determinants of racial health disparities
Dr. Barnes is visiting from Rush Medical College.
---
The 2017 Sylvan M. Cohen Annual Retreat and Poster Session
Tuesday, May 23, 2017
11:30 AM — 5:00 PM
Smilow Center for Translational Research
Topic: Genetics of aging-related neurodegenerative diseases
Keynote Speaker: Philip De Jager, MD, PhD
Associate Neurologist, Brigham and Women's Hospital, Associate Professor of Neurology, Harvard Medical School
Co-sponsors: Penn Neurodegeneration Genomics Center
---
​* Topics are tentative. Please check back closer to event date for confirmed talk title.
​* Online registration for each event will open no earlier than one month prior to the date.
---
© The Trustees of the University of Pennsylvania | Site best viewed in a supported browser. | Site Design: PMACS Web Team.