Upcoming IOA Events
Penn's 5K for the IOA & The Memory Mile Walk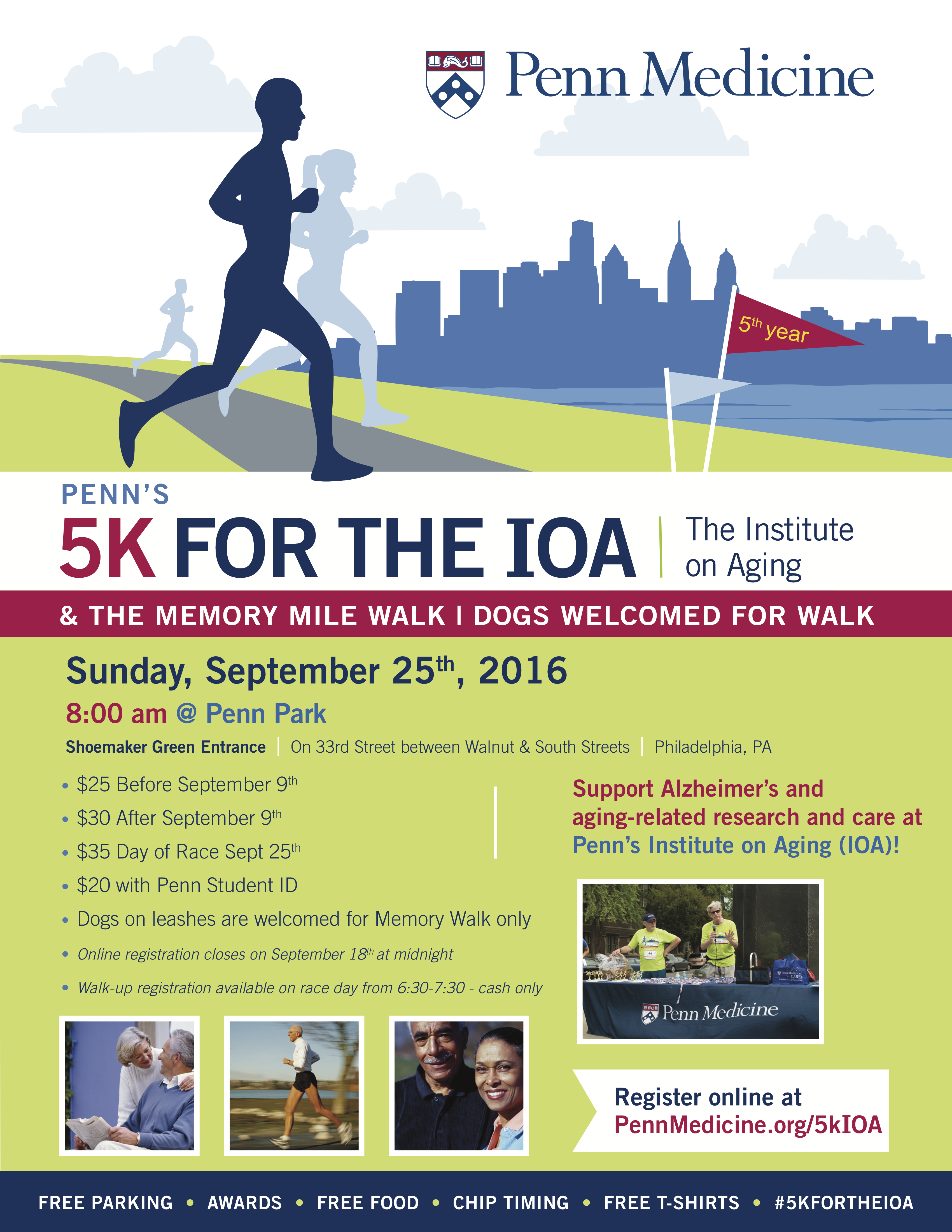 Sunday, September 25, 2016 | 8:00am | Penn Park
Help raise vital research dollars for Alzheimer's and other aging-related diseases at Penn's Institute on Aging (IOA!) With your help, the IOA can make the difference that yields new knowledge, finds cures, and changes the lives of millions of people suffering from Alzheimer's and other aging-related diseases.
Dogs are welcomed for the Memory Mile Walk!
RSVP to our Facebook Event for the latest updates
Register Now
Mark your calendars for our future events ...
The 2016 Joseph A. Pignolo Award in Aging Research
Thursday, October 27, 2016
3:00 — 5:00PM
Smilow Center for Translational Research
Keynote speaker: Luigi Ferrucci, MD, PhD
Senior Investigator, NIA Scientific Director; Chief, Longitudinal Studies, Harbor Hospital
The 2016 Vincent J. Cristofalo Lectureship and Reception
Tuesday, November 29, 2016
3:00 — 5:30PM
Location: TBD
Keynote speaker: S. Jay Olshansky, PhD
School of Public Health, University of Illinois at Chicago Division of Epidemiology and Biostatistics
The 2017 Sylvan M. Cohen Annual Retreat and Poster Session
Thursday, May 23, 2017
11:30 AM — 5:00 PM
Smilow Center for Translational Research
Topic: Genetics of aging-related neurodegenerative diseases
Keynote Speaker: Philip De Jager, MD, PhD
Associate Neurologist, Brigham and Women's Hospital, Associate Professor of Neurology, Harvard Medical School
Co-sponsors: Penn Neurodegeneration Genomics Center
---
​* Topics are tentative. Please check back closer to event date for confirmed talk title.
​* Online registration for each event will open no earlier than one month prior to the date.
---
© The Trustees of the University of Pennsylvania | Site best viewed in a supported browser. | Site Design: PMACS Web Team.