Upcoming IOA Events
Unlocking the Mysteries of Delirium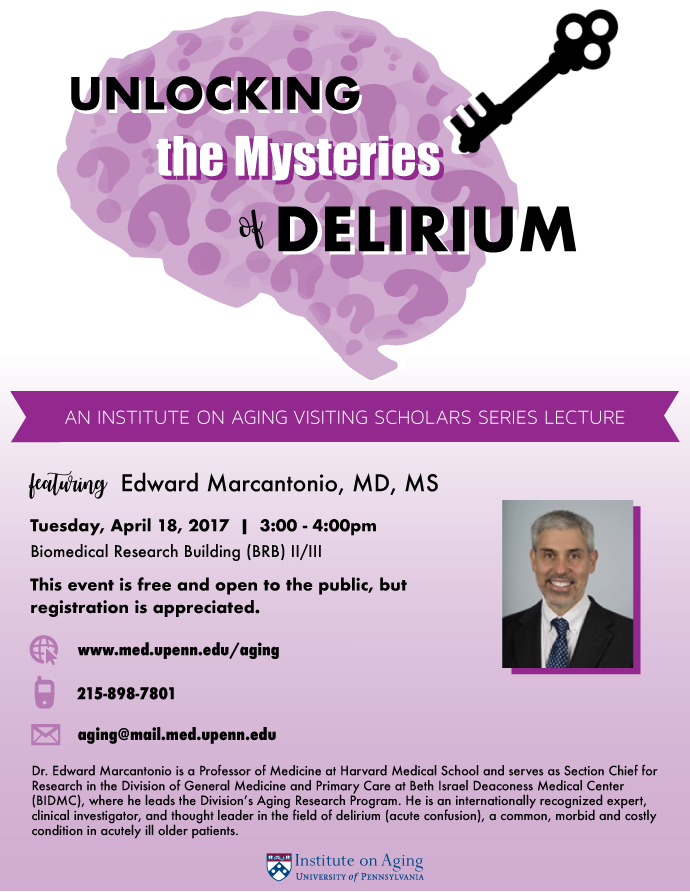 Keynote speaker: Edward Marcantonio, MD, SM

Tuesday, April 18, 2017
3:00 — 4:00pm
Biomedical Research Building
Dr. Marcantonio is Section Chief of Research for the Division of General Medicine and Primary Care at Beth Israel Deaconess Medical Center (BIDMC) and Professor of Medicine at Harvard Medical School.
Register now!
Mark your calendars for our future events ...
Visiting Scholar: Lisa Barnes, PhD
Wednesday, May 10, 2017
3:00 — 4:00pm
Biomedical Research Building II/III Auditorium
Tentative Topic: Risk factors for Alzheimer's disease and determinants of racial health disparities
Dr. Barnes is visiting from Rush Medical College.
---
The 2017 Sylvan M. Cohen Annual Retreat and Poster Session
Tuesday, May 23, 2017
11:30 AM — 5:00 PM
Smilow Center for Translational Research
Topic: Genetics of aging-related neurodegenerative diseases
Keynote Speaker: Philip De Jager, MD, PhD
Associate Neurologist, Brigham and Women's Hospital, Associate Professor of Neurology, Harvard Medical School
Co-sponsors: Penn Neurodegeneration Genomics Center
---
​* Topics are tentative. Please check back closer to event date for confirmed talk title.
​* Online registration for each event will open no earlier than one month prior to the date.
---
© The Trustees of the University of Pennsylvania | Site best viewed in a supported browser. | Site Design: PMACS Web Team.