FEATURED RESEARCH
Antipsychotic Drugs Linked to Increased Mortality Among Parkinson's Disease Patients
Penn, University of Michigan, and VA-led Study Analyzed Medical Records of 15,000 Parkinson's Patients
At least half of Parkinson's disease patients experience psychosis at some point during the course of their illness, and physicians commonly prescribe antipsychotic drugs, such as quetiapine, to treat the condition. However, a new study by researchers at the Perelman School of Medicine at the University of Pennsylvania, the University of Michigan Medical School, and the Philadelphia and Ann Arbor Veterans Affairs (VA) Medical Centers and suggests that these drugs may do significantly more harm in a subset of patients.
Read More
IOA IN THE NEWS
04/21/16

Specialists have long suspected that symptoms progressed more slowly in Parkinson's disease patients whose main problem was…

03/22/16

The Penn Memory Center's Alzheimer's Caregiver's Support Group and three patients and caregivers were featured in a follow…

03/18/16

Jason Karlawish, MD, professor of Medicine, Medical Ethics, Health Policy, and Neurology, and a regular contributor to Forbes.com,…
More News
Monthly E-Newsletter
IOA MEMBERSHIP
IOA Fellows
Join the nearly 300 Institute on Aging Fellows and Associate Fellows and experience robust collaborative opportunities in aging at Penn, for funding opportunity alerts, pilot research grant opportunities, and updates on IOA activities.
Get Involved
FEATURED VIDEO
Video Archive
UPCOMING EVENT
Sylvan M. Cohen Annual Retreat 2016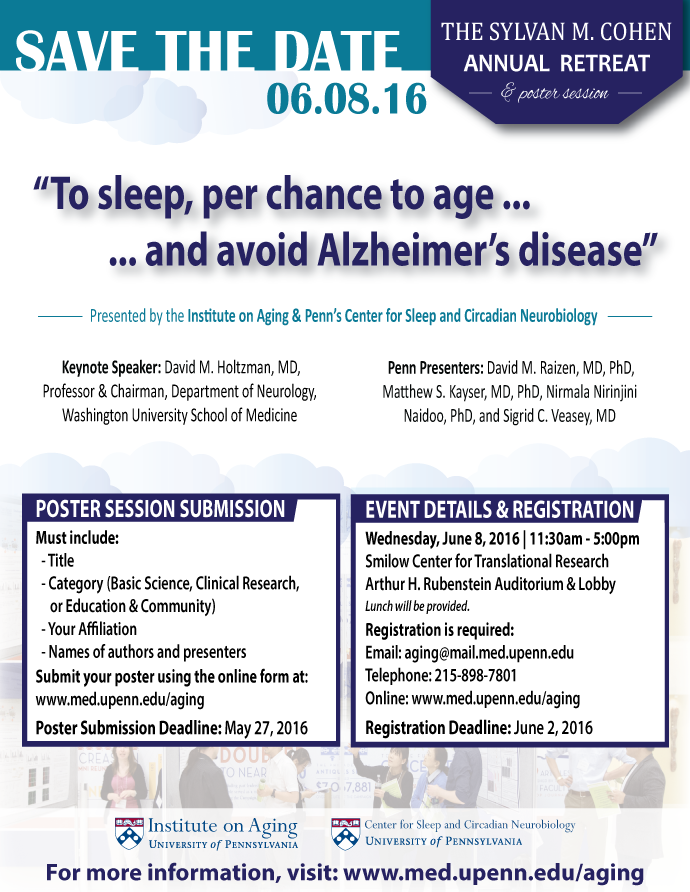 "To Sleep, per chance to age… and avoid Alzheimer's disease"
June 8, 2016
Keynote Speaker: David M. Holtzman, MD
with additional Penn presenters
Smilow Center for Translational Research
Arthur H. Rubenstein Auditorium & Lobby
More information

Poster submission deadline: May 27, 2016
Registration deadline: June 2, 2016
Register now
Submit a Poster
More Events
LINKS
© The Trustees of the University of Pennsylvania | Site best viewed in a supported browser. | Site Design: PMACS Web Team.