FAQ for Potential Penn MSTP Applicants
what does the penn md-phd program look for?
We are looking for candidates who show outstanding potential as future physician-investigators, as demonstrated by:
Academic excellence including, but not limited to, strong grades and MCAT scores. Successful applicants in the past few years have had an average GPA of 3.8. Most of the candidates interviewed for our program with new format MCAT scores had a combined score in the 90th percentile or above.
Sustained research experience and passion for investigation and medicine.
Outstanding letters of recommendation, particularly from the faculty with whom you did research.
Well-articulated goals that are a good match for our program's mission.
Close
---
how do i apply?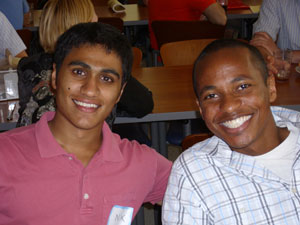 The preliminary application must be submitted via AMCAS by the standard deadlines. Upon receipt of the completed AMCAS application, eligible applicants will receive an e-mail from Penn which provides access information for our online supplemental application. It does not need to be sent separately to the MD-PhD office. Info on the application process and deadlines, which apply to both MD-PhD and MD applicants, appears on the PSOM Admissions website.
Close
---
when should i apply?
Most applicants apply for the MD-PhD program when initially applying for Medical School via AMCAS. However, some decide to apply to join the MD-PhD program after matriculating as an MD or PhD student. We strongly advise any candidate who is uncertain of his or her career goals to delay applying to the MD-PhD program. We recommend that these individuals spend additional time exploring their career goals before applying, or apply to the appropriate single degree program first.
Close
---
does the penn mstp admit and support students with disabilities?
Yes. The Perelman School of Medicine, the School of Veterinary Medicine, and the Medical Scientist Training Program seek students from diverse backgrounds, including diversity of work and life experiences, interests, culture, religion, creed, national or ethnic origin, citizenship status, socioeconomic status, race, ethnicity, sex, sexual orientation, and gender identity. This includes welcoming applicants with disabilities and providing an accessible and inclusive environment in which all learners have access to our programs. Information about academic accommodations, technical standards for admission, auxiliary services and technology is made available to applicants as well as students. Since we recognize that potential applicants may wish to inquire about disability services before deciding to apply, we encourage you to do so confidentially by contacting Dr. Susan Shapiro, Office of Student Disabilities Services (VPUL-SDSmail@pobox.upenn.edu, 215-573-9235, https://www.vpul.upenn.edu/lrc/sds/). Information provided by applicants to Student Disabilities Services is not made available to the admissions committee unless the applicant chooses to share it.
Close
---
does the md-phd program accept md students from penn into the combined program?
We welcome the applications of Penn medical students in the fall semester of their first or second year. (The deadline for 1st years to apply is typically Jan 1st. The deadline for 2nd years to apply is typically Nov 1st.) In a typical year we receive 0-3 applications through this avenue, and we currently have several students who were admitted through this pathway. Penn medical students applying to join the program in Biomedical Graduate Studies programs will complete our internal application forms. Applicants to the program in other graduate groups may be asked to complete a standard PhD application, in addition to our internal application. The admissions process is competitive and acceptance decisions are made collaboratively by the MD-PhD program and the relevant PhD program. The curriculum plan for candidates admitted through this mechanism is very similar to that of students who matriculated in the MD-PhD program initially in that students are primarily focused on the MD during years 1-2, then switch to focus primarily on the PhD starting in year 3, and eventually return to the MD curriculum after completing their graduate degree.
Close
---
does the md-phd program accept phd students from penn into the combined program?
The MD-PhD program is open to considering applications from students entering the first or second year of the PhD, if the faculty in the PhD program are supportive of the student's application to the MD-PhD program. In broad strokes, the curriculum plan for a student through this pathway would be: 1-2 years of the PhD program, then 2 years in the MD curriculum, then returning to the PhD program to complete the dissertation, and ultimately returning to the MD curriculum after completion of the graduate degree. During the first two years of the MD curriculum, the student would be able to continue some involvement in the PhD program as follows: 1) during fall and spring of MD year 1, they would be able to continue in research part time, 2) during the summer between year 1 and year 2 of the MD curriculum the student would conduct full time research, 3) during the fall semester (only) of MD year 2, they could again continue research part time. It is essential that students considering this pathway discuss their interests and goals with their Graduate Group Chair (and/or Track Chair if in CAMB) and other relevant faculty advisors, in addition to contacting the MD-PhD program. Penn graduate students who have the support of the PhD program to pursue this would then apply through AMCAS and complete the MD-PhD supplemental application. MCATs are required, and students must meet all the relevant external application deadlines in summer/fall at the start of their first or second year. We do not currently have any students in the program who entered via this pathway, but we have admitted a few students through this pathway in the past.
Close
---
does penn accept transfer applicants?
Generally, the School of Medicine does not consider applications for admission with advanced standing. Exceptions are made very, very rarely, and only if we anticipate having space in the clinical courses.
Close
---
what happens after i submit my application?
Selected candidates will be invited to interview. Our interview visit takes place over a day and a half and consists of opportunities to learn about the program, meet with students, and see Philadelphia, in addition to interviewing individually with 4 to 6 faculty members.
Close
---
how does the selection process work?
Penn has an integrated admissions process and the MD-PhD program works closely with the MD admissions committee and the graduate groups to make joint decisions about admission. Offers of admission typically go out in March.
Close
---
what type of funding do applicants receive?
Offers of admission come with full funding which consists of tuition, health insurance, most fees, and a stipend ($32,000 for 2017-18). This funding support remains in effect for the entire duration of the program, as long as the student remains in good standing. Financial support for these funding packages is derived from the Medical Scientist Training Program grant funded by the National Institute of General Medical Sciences of the NIH, the University of Pennsylvania School of Medicine, private foundation funds, faculty research grants and other sources.
In some cases, candidates for graduate programs outside of Biomedical Graduate Studies and Bioengineering may receive an offer of admission with a less comprehensive funding package. In extremely rare situations, it is also possible that a candidate to one of the programs above would receive an alternative funding offer.
Close
---
which phd programs are active in the penn mstp?
---
can i apply to the program and designate a phd program other than the ones listed above?
Absolutely! The MSTP is open to considering applications for any PhD program at Penn. For instance, we currently have one student in the Physics PhD program. Other programs that have partnered with us to jointly interview one or more candidates in the last few years include Chemistry and Psychology. Our supplemental application allows candidates to designate one of the 11 active programs listed above, or to check "other" and list the PhD program that is of interest to them. When an applicant applies and lists a program under "other" the first step (as with all applications here) is review by the MD-PhD admissions committee. If the MD-PhD committee believes that the candidate may be competitive for admission and a good fit for the program, the application will be forwarded to the relevant Graduate Group for additional review. At that point, faculty members in the MD-PhD program and the chosen PhD program will discuss the specific application under consideration and also broader issues, such as a potential joint curriculum plan. If the leadership of the MD-PhD program and the chosen PhD program reach a shared vision of a training plan, and believe the candidate could be competitive for admission, he or she will be invited to interview and may be asked to provide additional application materials that are required by the chosen PhD program (such as GRE scores, additional application forms, or a writing sample).
Close
---
is the gre required?
All applicants must take the MCAT. Each School/Graduate Program has its own policy regarding whether the GRE is also required. MD-PhD applicants to the Biomedical Graduate Studies graduate groups and the Bioengineering graduate group are not required to take the GRE, because MCAT scores are considered an acceptable alternative. History and Sociology of Science requires the GRE. Health Care Management & Economics (Wharton) requires the GRE or GMAT. Applicants to Anthropology are strongly encouraged to take the GRE. Candidates applying to the program in a PhD discipline other than those listed here are also encouraged to take the GRE, since this may be required for the graduate program.
Close
---
are there any special requirements for applicants outside of biomedical science?
As noted above, applicants to graduate groups outside of biomedical science are strongly encouraged to take the GRE, and in some cases this will be required. In addition, for candidates for Anthropology and History and Sociology there is one additional application essay about their interest in the Graduate Group at Penn. Those selected for interview may also be asked for other additional materials.
Close
---
are international applicants eligible to apply?
Yes, we do accept applications from candidates who are not U.S. citizens or permanent residents, and these candidates are eligible for consideration for fully funded offers of acceptance. To be considered, candidates must have a minimum of one year of course work in the sciences at a U.S. institution, as described on the PSOM Admissions website. (An exception to the one year of US course work policy applies for certain Canadian institutions that are similar to US Schools. Please contact the Admissions Office directly if you are at a Canadian institution and have a question about this). Approximately 10% of our students are individuals who earned their Bachelor's degrees (or equivalents) from a US or Canadian institution, but are not US citizens or permanent residents.
Close
---
can i be considered for both the md-phd and md?
No. AMCAS requires applicants to indicate a program choice of MD or MD-PhD, and this is also true for Penn.
Close
---
If I apply MD-PhD and am not admitted MD-PhD, will I be considered for the MD program?
No, as noted above, you must choose either MD-PhD or MD and will only be considered for the program that you select.
Close
---
what if i am undecided between md-phd and md?
If you are committed to a career as a physician investigator and plan to spend the majority of your time conducting research, you should apply MD-PhD. If you are not sure of your career goals, or do not intend to have a primary research focus, you should apply for the MD program. (If you are undecided, you will have the opportunity to apply to enter the MD-PhD program during the first or second year of medical school if you later decide this is the best path for you).
Close
---
is it easier to gain admission through the md program?
No. Both applicant pools are extremely competitive and have very similar average grade point averages and MCAT scores. There is no strategic advantage to choosing one program over the other, and we strongly encourage applicants to choose a program based on their interests and goals.
Close
---
can i change from md-phd to md or md to md-phd part way through the application process?
Applicants are strongly encouraged to carefully consider their choice before designating MD or MD-PhD. However, it is possible to change the program designation up until October 15th. No changes are permitted after October 15th. Applicants who wish to make a change prior to October 15th must make the change through AMCAS, and must also contact the Penn School of Medicine Office of Admissions directly.
Close
---
does the penn mstp participate in the nih / md-phd partnership training program (aka the nih gpp program)?
The Penn MSTP does NOT participate the NIH / MD-PhD Partnership Training Program (with one exception, noted below). Students who are currently in the NIH GPP program (track 3) are welcome to apply to Perelman, but should designate MD (rather than MD-PhD) on their applications and will not be considered for funding through the Penn MSTP. It is possible that students in this situation may continue to receive some funding via the MD-PhD Partnership Training Program, and they should consult their Partnership program leaders for information about financial support. (The Penn MSTP participates fully in only one aspect of the Partnership program, and this is limited to our Immunology students in the full time PhD phase of the program. Our Immunology Graduate Group faculty includes a limited number of investigators with labs at NIH. MD-PhD students in Immunology may consider these labs for thesis work).
Close
---
Do you have a question that wasn't answered above or in our other Applicant Info pages?
If so, please e-mail Maura Tucker, Associate Director for the MD-PhD program, and she'll be glad to provide additional information.