Cores
The Penn ADRC is made up of nine interrelated Cores and Components:
Core Leader: David A. Wolk, MD
Director for Administration: Kathy Jedrziewski, PhD
The role of the Administrative Core is to shepherd and facilitate the activities of the ADRC Cores and to serve as a bridge between the ADRC and national and international efforts in pursuit of these goals. The Administrative Core is critical to maintain the "centeredness" of the ADRC by coordinating efforts across the individual cores, by promoting collaborations with other neurodegenerative centers at Penn and beyond, and by promoting activities consistent with our thematic focus around AD heterogeneity.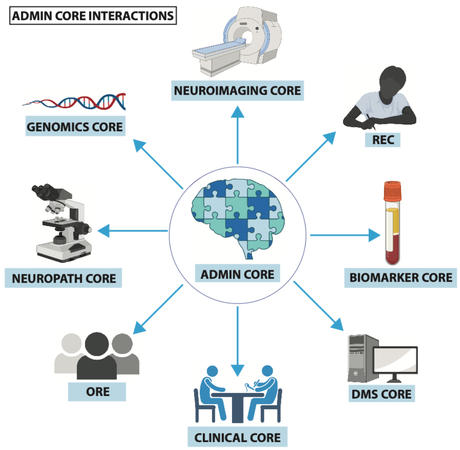 Core Leader: David Wolk, MD
Core Co-Leader: Dawn Mechanic-Hamilton, PhD
FTD Module Leader: David Irwin, MD
DLB Module Leader: David Irwin, MD
The heart of the Penn ADRC's Clinical Core sits in the Penn Memory Center (PMC). PMC is a multi-departmental clinical and clinical research outpatient center located in the Perelman Center for Advanced Medicine (PCAM).
The theme of the Penn ADRC is to better understand both the upstream factors and processes that contribute to Alzheimer's Disease (AD) heterogeneity and the downstream markers critical to characterizing it. The Clinical Core serves as the central node for this thematic mission by deeply characterizing a clinically and demographically diverse cohort
To help support the theme of the Penn ADRC -- to better understand both the upstream factors and processes that contribute to Alzheimer's Disease (AD) heterogeneity and the downstream markers critical to characterizing it – the Clinical Core deeply characterizes a clinically and demographically diverse cohort, including but not limited to:
Cognitively normal older adults to those with mild dementia
Those with other neurodegenerative conditions such as Frontotemporal degeneration (FTD) and Lewy body disease
Those with atypical and early onset AD presentations
In collaboration with the Outreach, Recruitment, and Engagement Core (ORE), recruitment of African Americans, a group poorly represented in AD research, is also a priority and enhances efforts to examine the diversity of factors that contribute to heterogeneity in expression of disease.
Additionally, the Clinical Core serves as an important base for training efforts with the Research Education Component to develop the next generation of investigators and clinicians, as well as collaborating closely with the other Cores of the center in a variety of ways.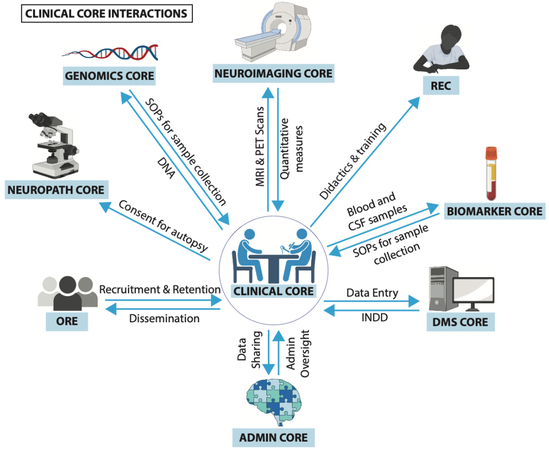 Core Leader: Sharon Xie, PhD
Core Co-Leader: Li-San Wang, PhD
The goal of the DMS Core is to support the data management, statistical, bioinformatics, database, and related computational needs of Penn ADRC investigators and ADRC Developmental Project awardees. It plays an important and significant role in the Penn ADRC that is critical to research on AD and related disorders, subjects with mild cognitive impairment (MCI) and cognitively normal (CN) controls conducted by Penn ADRC investigators and their collaborators at other ADRCs as well as to the continuation of an effective working relationship with the National Alzheimer's Coordinating Center (NACC).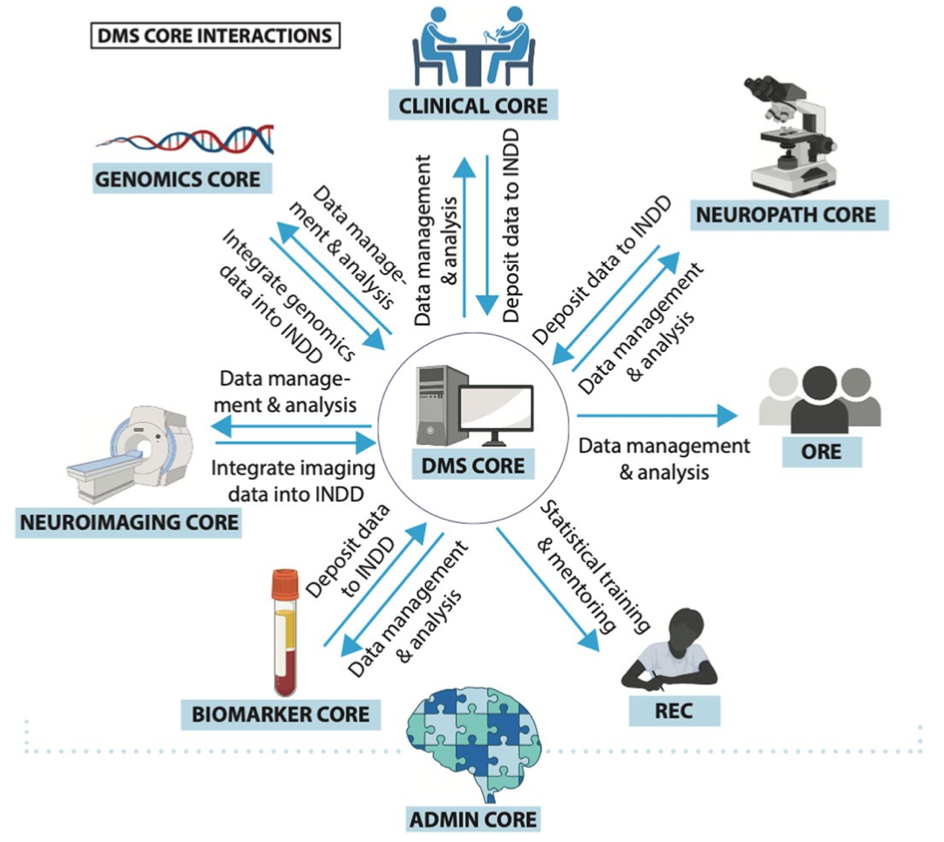 Core Leader: Edward B. Lee, MD, PhD
A major focus of the Neuropathology Core is to define the full spectrum of co-morbid protein aggregate pathologies in the aging brain.
It is a vital component of the Penn ADRC in defining the complexity and breadth of neuropathologic change in ADRC subjects in support of its mission to increase research and education on AD/ADRD across the continuum from normal aging to dementia with the goal of identifying the causes of and cures for AD/ADRD.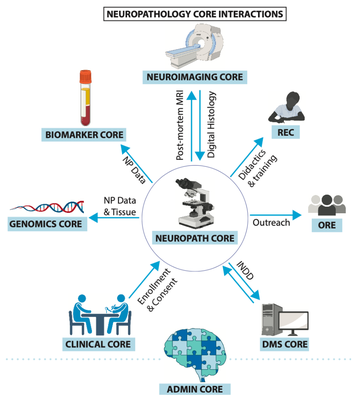 Core Leader: Jason Karlawish, MD
Core Co-Leader: Emily Largent, JD, PhD, RN
The overarching goals of the Penn ADRC's Outreach, Recruitment and Engagement (ORE) Core are to advance research, to promote public understanding, and to foster better ways for patients, families, and America to live with AD/ADRD.
It supports the development of Penn ADRC staff and professionals' knowledge, attitudes, and skills related to communications, cognitive aging, AD/ADRD, the stages of these diseases, care and caregiving, stigma, and diversity, equity, and inclusion.
We will work with the Clinical and Administrative Cores and community partners to develop and implement effective outreach and engagement programs to educate the public, people living with MCI and dementia, and caregivers and families about AD/ADRD, as well as to build support structures and promote research that address the distinct challenges AD/ADRD poses to well-being and autonomy. The Black or African-American community will be an emphasis of this work.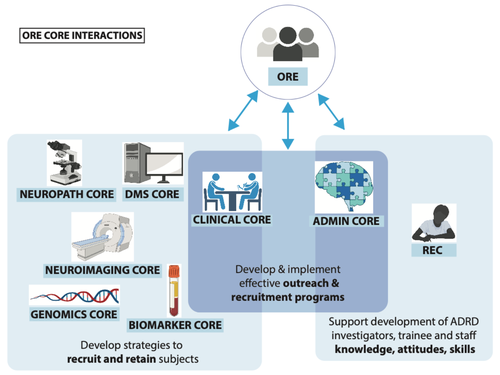 Core Leader: Alice Chen-Plotkin, MD
Core Co-Leader: Leslie M. Shaw, PhD
The Biomarker Core has two over-arching goals:
Continue a highly-successful tradition at the University of Pennsylvania of banking and widely dispersing biofluid samples obtained by the Clinical Core, while annotating these samples with baseline molecular measures that allow for Amyloid-Tau-Neurodegeneration (A/T/(N)) classification within the NIA-AA framework.
Pave new ground by relating well-established CSF- and imaging-based A/T/(N) biomarkers to measures obtained from emerging plasma-based biomarkers, and performing measures that will allow for investigation of the contribution of vascular disease to heterogeneity of clinical phenotype.
To achieve these goals, the Biomarker core aims to:
Oversee and direct all banking and dispersal of biofluid samples obtained in ADRC UDS participants
Characterize established biochemical biomarkers previously reported in the literature in order to annotate all Clinical Core samples within the A/T/(N) classification scheme.
Relate emerging plasma-based biomarkers to established CSF and imaging biomarkers, as well as neuropathology.
Collaborate with other Cores to investigate the contribution of vascular disease to heterogeneity of clinical phenotype.
Provide advice and support to investigators within and outside the Penn ADRC.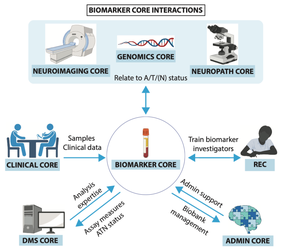 Core Leader: Vivianna Van Deerlin, MD, PhD
Core Co-Leader: Corey McMillan, PhD
The Genomics Core will innovatively incorporate genetics and bioinformatics expertise with the goal of supporting the Penn ADRC mission by providing resources to conduct and support genomics research in collaboration with the other cores through the following Aims:
Extract nucleic acid from biosamples for biobanking and sharing
Perform genotyping and generate polygenic risk scores to relate to pathology and downstream processes of AD
Measure DNA methylation and generate epigenetic summary scores like "epigenetic clock"
Screen and counsel patients for hereditary disease
Enhance diversity in research and education of genetics of AD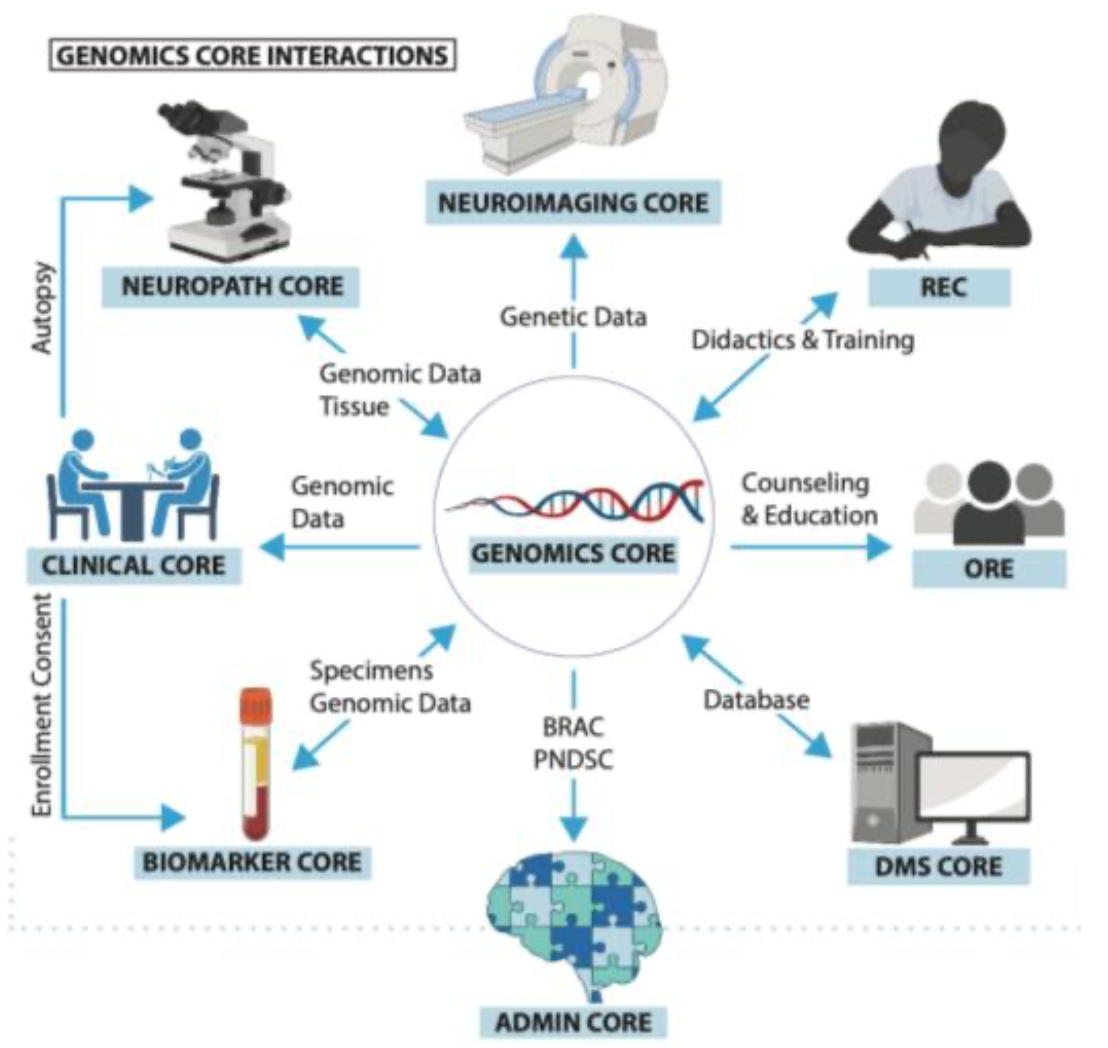 Core Co-Leader: John A. Detre, MD
Core Co-Leader: Paul Yushkevich, PhD
The Penn ADRC Neuroimaging Core will consolidate expertise in advanced neuroimaging methods and applications to support the acquisition and analysis of state-of-the-art multimodal MRI of brain structure and function, molecular brain imaging using PET, retinal angiography using optical coherence tomography (OCTA). The Neuroimaging Core will oversee the acquisition and analysis of standard MRI and PET scans used in defining preclinical AD based on amyloid, tau, and neurodegeneration ("A/T/(N)") staging and for quantifying ischemic lesions in the brain.
Additional unique features of the Neuroimaging Core include the use of ultra- high-field (7T) MRI both in vivo and for post-mortem imaging of intact hemispheres, the development methods for accurate image-guided sampling of post-mortem brain tissue allowing spatial linkage between digital pathology and in vivo morphometry, the development of data infrastructure linking imaging and non-imaging databases, novel MRI and OCT methods for quantifying brain structure and vascular function in ADRC research, and infrastructure to support the translation of novel PET tracers to clinical research in AD/ADRD. The Neuroimaging Core will also share imaging data collected at the Penn ADRC with the National Alzheimer's Coordinating Center (NACC) at the University of Washington and SCAN U24.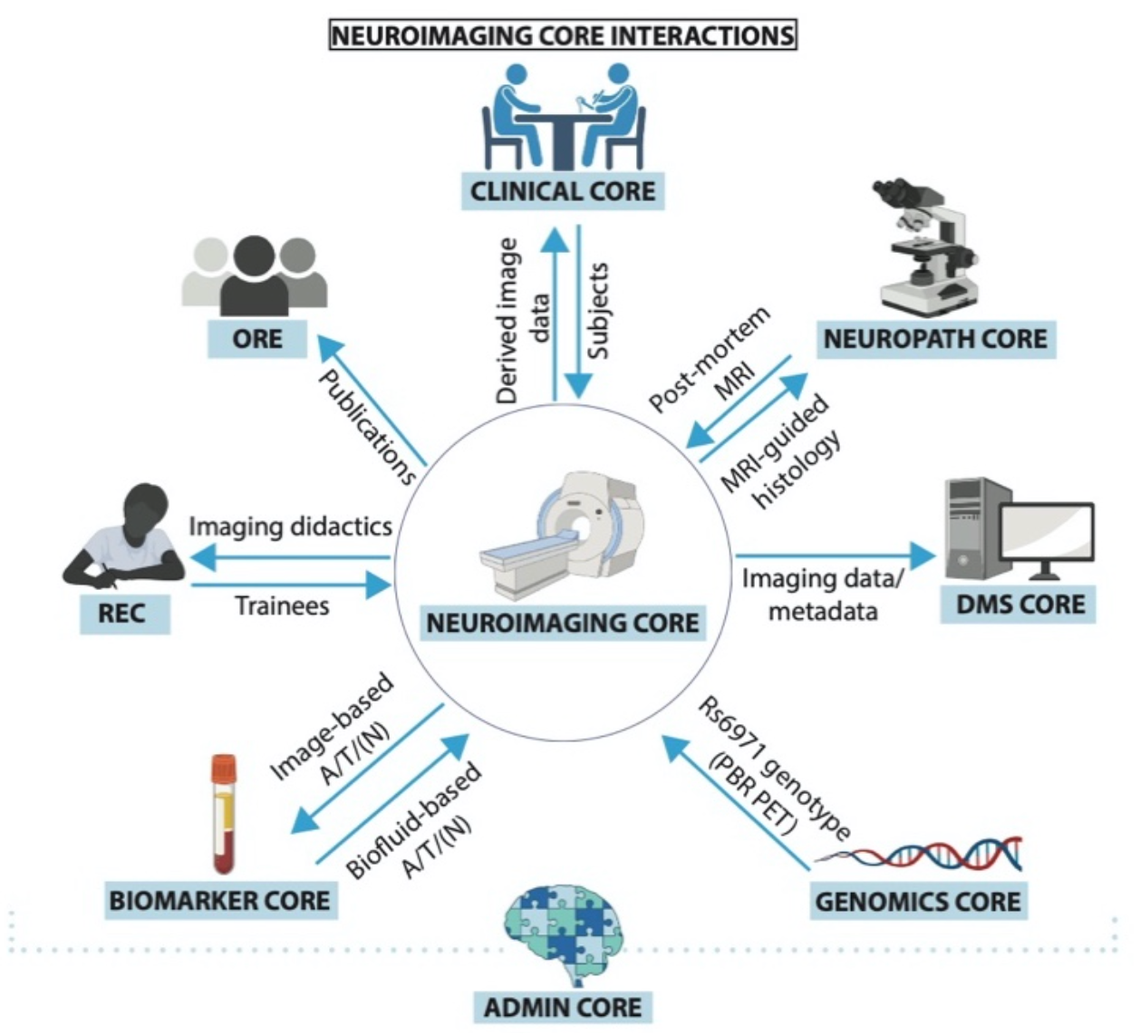 Core Leader: Jason Karlawish, MD
Core Co-Leader: Roy Hamilton, MD
The goal of the Research Education Component (REC) is to create a cadre of collaborative scientific leaders in research on AD/ADRD. Our REC structure uses a comprehensive, multi-disciplinary, diverse and inclusive approach. We designed our integrated program to assure trainees will acquire a keen appreciation of the heterogeneity within AD and between it and other neurodegenerative diseases, as well as a comfort with thinking about how basic findings inform clinical research, and clinical findings inform basic research. With the REC, the Penn ADRC will implement the National Alzheimer's Project Act (NAPA) milestones to improve and increase cross-disciplinary training, including for individuals who are members of under-represented populations, and of different career levels of scholars.