FEATURED RESEARCH
Largest-Ever Alzheimer's Gene Study Reveals Five New Genes that Increase Risk
Penn Medicine research team participates in international consortium on Alzheimer's genetics
The International Genomic Alzheimer's Project (IGAP) analyzed information from more than 94,000 individuals and found new information on the underlying causes of Alzheimer disease (AD), including five new genes that increase risk for the disease. Their findings were published in Nature Genetics.
Full Penn Medicine News Release
More Research
CNDR IN THE NEWS
The Alzheimer's Association Delaware Valley Chapter this week announced nearly $790,000 in grant awards to Philadelphia scientists.

Proteinopathies, the misfolded proteins responsible for neuron deaths, have a claim to fame when it comes to rare neurodegenerative diseases.

Researchers have long searched for an explanation for why there is so much variety in how abnormal aggregates of the protein tau occur in the brains of…
More News
FEATURED VIDEO
Video Archive
UPCOMING EVENT
CNDR's Marian S. Ware Research Retreat 2019
"Genetics and Genomics: What have they taught us about neurodegeneration?"
Wednesday, November 6, 2019
9:00am — 5:00pm
Biomedical Research Building
University of Pennsylvania
More details coming soon!
More Related Events
HIGHLIGHTS
CNDR Celebrates 25 Years of Groundbreaking Research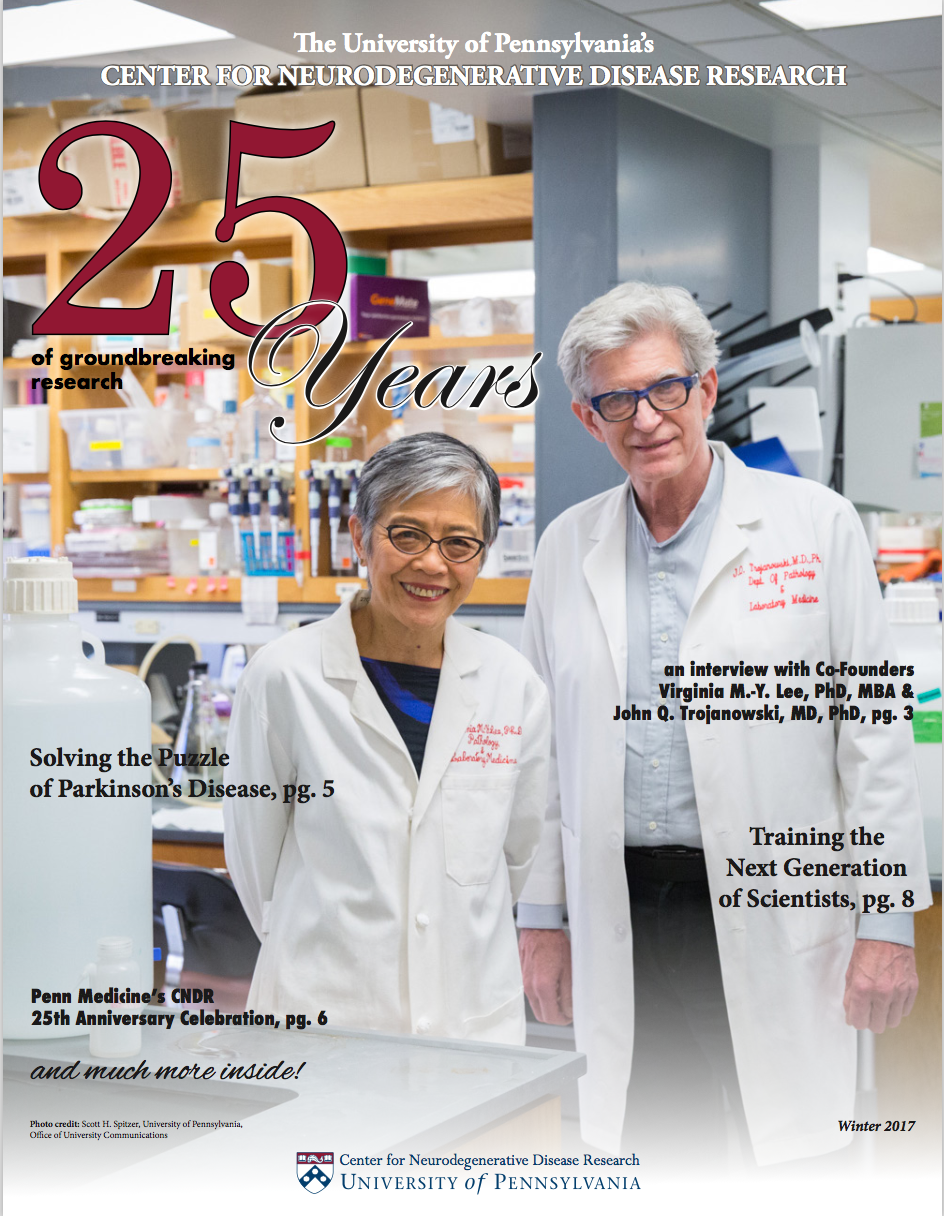 This year, CNDR is celebrating 25 years of groundbreaking research. Read about the Center's history, mission, research, programs, and 25th Anniversary Celebration in this special edition newsletter.
LINKS
© The Trustees of the University of Pennsylvania | Site best viewed in a supported browser. | Site Design: PMACS Web Team.