Giving to CNDR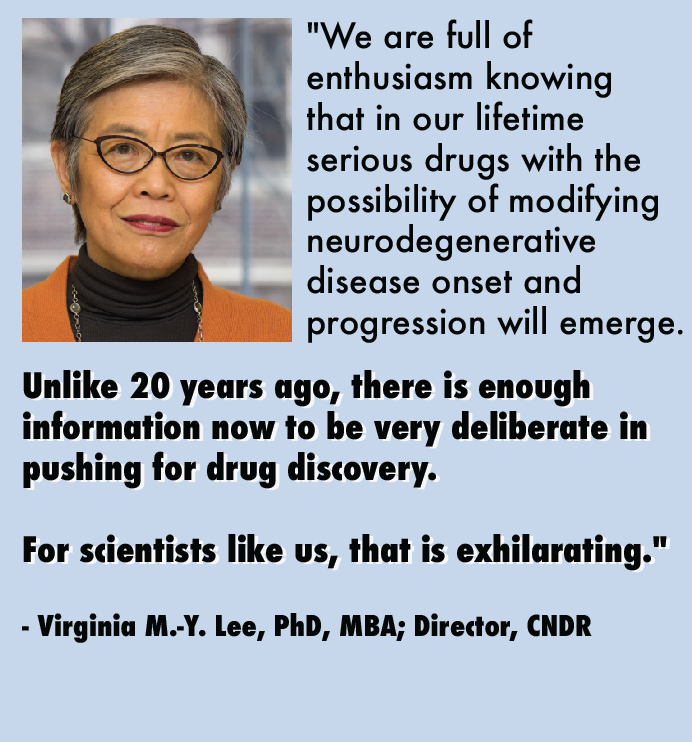 CNDR is an international leader in research and drug discovery for Alzheimer's disease (AD), Frontotemporal degeneration (FTD), Parkinson's disease (PD), Amyotrophic lateral sclerosis (ALS or Lou Gehrig's disease), and other neurodegenerative diseases.
Your support will help accelerate the efforts to develop disease-modifying therapies
and to improve the quality of life for those suffering from these devastating disorders.
DONATE NOW
Secure Online Giving:
Designate your gift to a specific disease area
Create a Custom Giving Page:
Make a gift in honor or memory of your loved one affected by neurodegenerative disease
Give by Mail:
Make a check payable to the "Trustees of the University of Pennsylvania" and mail to:
Penn Medicine Development
Attn: Elizabeth Yannes
3535 Market Street, Suite 750
Philadelphia, PA 19104
Close section
---
Tribute Gifts
Honor someone who has impacted your life by making a gift in his or her name. A letter notifying your loved one or their family will be sent for each tribute gift.
Matching Gifts
Matching gifts offered through your company can double and, in some cases, even triple your gift. Enclose your company's matching fit form with your gift. Your company's personnel office will be able to provide more information about their matching gift program.
Gifts of Securities
Gifts of stocks or appreciated securities are often a wise choice because donors pay no capital gains tax while deducting the full value of the gift.
Planned Gifts
A planned gift to IOA, as a part of your financial and estate planning, provides additional tax and income benefits to you and your family. Planned or deferred gifts include, bequests, charitable gift annuities, retirement asset designations, charitable remained trusts and other tax-savvy options.
Naming Opportunities
With a gift of $25,000 or more (payable over multiple years), you can create a fund named in your or that of a loved one. Named funds enable you to direct resources to specific research initiatives or jumpstart novel programs.
Close section
---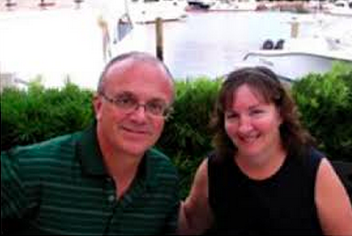 When devising their gift to advance cutting edge Parkinson's disease research at the University of Pennsylvania, Jeff and Anne Keefer wanted to support not only the clinical work conducted by Dr. Matt Stern of the Parkinson Disease & Movement Disorders Center at Pennsylvania Hospital, but also the Parkinson's Disease Drug Discovery Program run by Drs. Virginia M.-Y. Lee and John Q. Trojanowski at Penn Medicine's Center for Neurodegenerative Disease Research. They thought outside the box and established not one but two named funds to suit their philanthropic interest.
Not long after making their generous gift, Jeff made plans to retire from E.I. Du Pont Nemours & Company after 34 years of service. When his colleagues asked him what he planned to do in retirement, Jeff said "help raise funds for the University of Pennsylvania, so that even more research can be done on these neurodegenerative diseases!"
His creative philanthropic thinking again took hold and he designed a website to introduce his network of DuPont colleagues to the work of Drs. Stern, Trojanowski, and Lee. Jeff's website encourages colleagues who wished to honor him on his retirement to consider making a gift to the Jeff and Anne Keefer Funds for Parkinson's Research.
We sincerely thank Jeff and Anne Keefer for their innovative support of Parkinson's research at Penn!
Close section
---
Contact
Elizabeth Yannes, Penn Medicine Development
215-573-4961
elyannes@upenn.edu
© The Trustees of the University of Pennsylvania | Site best viewed in a supported browser. | Site Design: PMACS Web Team.