About CNDR
CNDR at the University of Pennsylvania brings together researchers investigating the causes and mechanisms of neurodegenerative diseases that occur more frequently with advancing age, such as:
Alzheimer's disease (AD)
Parkinson's disease (PD)
other Lewy Body Disorders (LBD)
Frontotemporal Lobar Degeneration (FTD)
Frontotemporal Disease with Parkinsonism (FTDP-17)
Amyotrophic Lateral Sclerosis (ALS)
Primary Lateral Sclerosis (PLS)
other Motor Neuron Diseases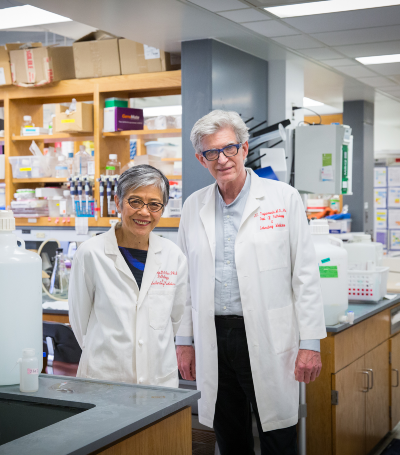 Virginia M.-Y. Lee, PhD, MBA and John Q. Trojanowski, MD, PhD founded and co-directed CNDR until 2002 when Dr. Lee assumed the role of Director, with Dr. Trojanowski as Co-Director. Together, Drs. Lee and Trojanowski lead a team of University of Pennsylvania researchers, including Penn undergraduates, School of Medicine graduate students, postdoctoral fellows, technicians, and research associates, on a variety of projects that are funded by several NIH and foundation grants.
With laboratories located on three floors of the Hospital of the University of Pennsylvania's Maloney Building (floors 1, 3 and 6), CNDR is in the heart of Penn's campus. CNDR scientists collaborate with researchers not only at Penn, but also from institutions around the globe to find better ways to diagnose and treat neurodegenerative disorders.
History
Founded in 1991, CNDR became the first and only National Institutes of Health (NIH)-funded Alzheimer's Disease Core Center (ADCC) in the Delaware Valley, part of a network of several cooperating NIH-funded centers throughout the nation. CNDR continues to lead the Penn ADCC and in 2019 the team launched a new National Institute on Aging Penn U19: A Center on Alpha-Synuclein Strains in Alzheimer's Disease and Related Dementias.
More than 20 years ago, the team identified the significance of tau in Alzheimer's disease, later identifying TDP-43's role in other neurodegenerative diseases. More recently, the team has shown, first in Parkinson's, how pathology spreads from cell-to-cell in neurodegenerative diseases. Since its founding, CNDR has contributed to a dramatic expansion in basic and clinical research programs on neurodegenerative disorders at Penn.
CNDR provides leadership, training/education, and core support to augment and enhance ongoing collaborative studies as well as to stimulate new investigations into the etiology, pathogenesis, diagnosis, treatment, and prevention of neurodegenerative diseases - and to translate progress in the lab to clinical practice. Researchers pursue a comprehensive array of research activities that extend from basic science methods of test tubes and cell culture systems to those involving animal models of neurodegenerative diseases.