Narrative #2: Faculty to Administrative Staff
Theme:

Junior faculty member stressed about new job and adapting to a new city
Location:
Dulles 6 Office Area
New Attending: "I've been so stressed lately adjusting to my new schedule on top of living in an unfamiliar city."

Admin: "Please let me know if there is anything I can do to help! I've lived in Philly for most of my life. If you need any recommendations for restaurants, neighborhoods or even just a quiet place to get away – don't hesitate to ask me!"

New Attending: "I really appreciate that! I'm very close with my family so it's been difficult being far away. It's good to know there is a sense of community here."

Admin: "Eventually you will get used to the hustle and bustle of city life. Philly has so much to offer and would be a great opportunity to invite your family here to tour and visit."
---
What was done well?
This is a positive interaction reflecting the hardships our new department members may face when adjusting to their new surroundings. The importance of providing a sense of community and welcome for those who are new cannot be overemphasized. It is easier to transition knowing there are helpful and friendly people willing to go the extra mile.
The administrative staff was friendly and helpful.
The administrative staff specifically offered to be a "reference point" for help when needed.
What went wrong with it? – "Behavior inconsistent with a culture of safety"
Ensuring that there is sufficient time to address the bureaucracy of the system and the disconnection or fragmentation of all the hospitals involved in the orientation process. The administration cannot change the existing bureaucracy, but is recognizing the time it takes to safely navigate through the process and now allocating the time needed.
What could have been done better? "Specific strategies to implement a culture of change"
The department is continuing to improve the existing resources present to facilitate a more structured orientation for new staff that will minimize situations of high stress for faculty and residents.
The department is continuing its newly implemented "Pairing System" for new faculty. This program includes the pairing of new faculty with an existing peer faculty who could be available for questions and specific direction during the onboarding process. This is similar to the resident buddy system for new 1st year residents.
Each new faculty can assume the shared responsibility of improving the current onboarding process with the administration. New faculty are encouraged to give continuous feedback about their experience and what the department can do to make their transition better during the onboarding period. The exchange of information from new faculty can be relayed to the administration via email and subsequently to new faculty via a blog reiterating personal stories with specific strategies of effectively navigating through the bureaucracy of the system. This can be uploaded on the sharepoint for new faculty.
An online document with information that is easily accessible to new faculty in the department, incorporating "tips for survival in the HUP/PPMC operating rooms and in the city of Philadelphia" will be created. Faculty volunteers are needed. Please contact Dennis Harris at dennis.harris@uphs.upenn.edu if interested or have any suggestions.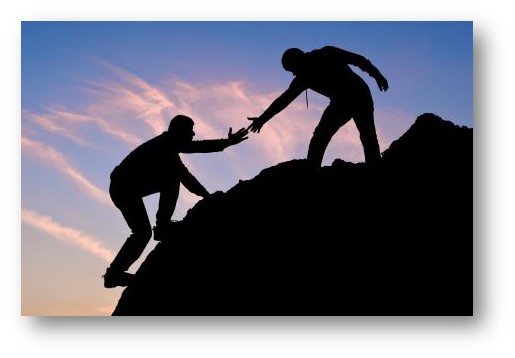 Citations:
Banner: "Avoid Family Life Burnout." Babysitting.today. Digital Image. 16 Apr 2015. Web. 25 Jan 2017.
Figure: Takmizyan, Lusine. "Helping Others" 21HM Boutique. Digital Image. 21 May 2016. Web. 25 Jan 2016.
© The Trustees of the University of Pennsylvania | Site best viewed in a supported browser. | Site Design: PMACS Web Team.