Dr. Oksana Jackson honored by Ukrainian President
Learn more about Dr. Oksana Jackson's incredible work in Ukraine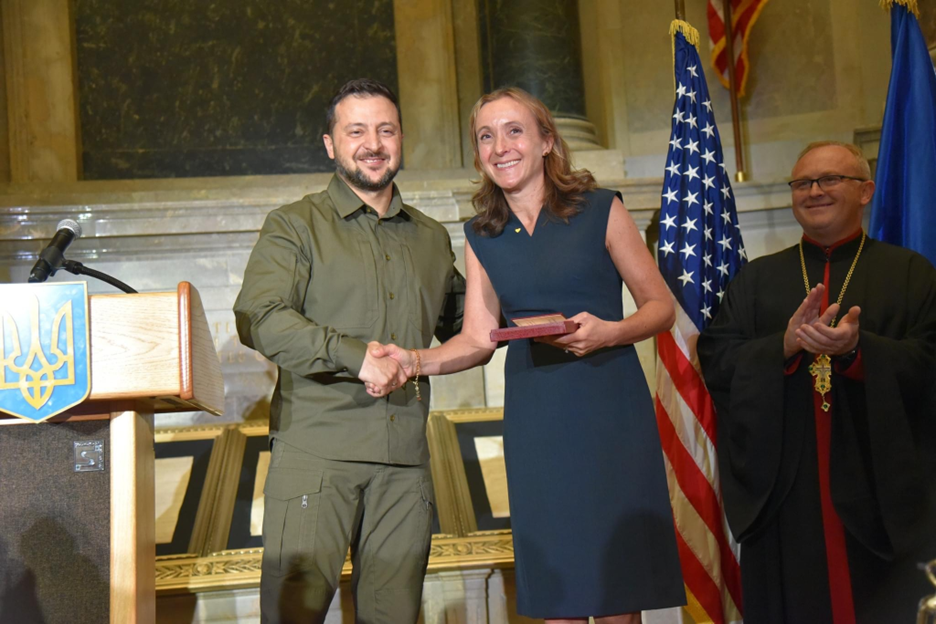 Dr. Oksana Jackson, MD receives the Order of Merit Award from Ukrainian President Volodymyr Zelenskyy for her work serving patients in Ukraine
On September 21, 2023 Oksana Jackson, MD, Associate Professor of Surgery and Attending Physician at the Children's Hospital of Philadelphia and the Division of Plastic Surgery, Hospital of the University of Pennsylvania, received the Order of Merit Award from Ukrainian President Volodymyr Zelenskyy for her work serving patients in Ukraine.
Over the past 18 months, Dr. Jackson traveled to Ukraine, offering her knowledge and leadership to providers serving patients with cleft and craniofacial conditions, as well as patients injured in the ongoing conflict between Ukraine and Russia. Prior to the start of the war, Dr. Jackson made several trips to Ukraine for collaboration in cleft care.
As part of a speech to an audience in the U.S. National Archives rotunda, President Zelenskyy honored 16 Americans who performed a service for the good of the people of Ukraine. Dr. Jackson was included in this honorable group and accepted the award in front of an esteemed audience of international leaders.
"I am so honored to be among this distinguished group of Americans who are united for a common cause to help Ukraine during this difficult time," said Dr. Jackson, who is co-director of CHOP's Cleft Lip and Palate Program and the Donato D. LaRossa Endowed Chair in Plastic Surgery. "I also share this award with many colleagues, at both CHOP and the Hospital of the University of Pennsylvania, who have all contributed towards medical assistance to Ukraine."
Dr. Jackson, who is of Ukrainian heritage, is a highly regarded craniofacial surgeon and has been recognized on several Top Doctors lists. In 2021, she received a Certificate of Honor for Humanitarian Work for Ukraine from the Embassy of Ukraine. Dr. Jackson also serves as vice president of the American Cleft Palate-Craniofacial Association.