Media Technology & Production - Directions
Media Technology & Production is located at:
3620 Hamilton Walk
335 Anatomy/Chemistry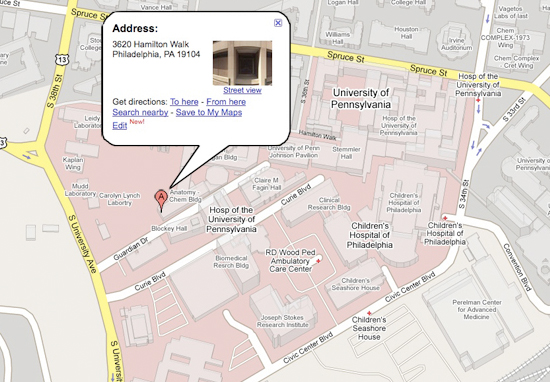 Walking Directions From HUP:
Exit the hospital from Roads Pavilion, across from Stemmler Hall.
Take Hamilton Walk until you reach the entrance to Johnson Pavilion.
In the lobby of Johnson Panvilion, a security guard will give you access to the John Morgan Building.
Walk straight through The John Morgan Building until you reach the end of the hallway.
Turn left and walk to the door at the end of the hall.
There will be a short staircase there of about 3 or 4 steps. At the top of these steps immediately turn left.
Enter the elevator and take it to the third floor.
Exit the elevator and turn left.
Go to the end of the hall and turn right.
You have arrived at 335 Anatomy Chemistry.
About Us

As a division of Space Planning & Operations, the mission of Media Technology & Production is to facilitate superior service and customer support in classroom technologies, video and multimedia productions, audio/visual services, and consulting in accordance with Penn Medicine in order to further the academic and research missions of the Perelman School of Medicine.