Small Animal SPECT Imaging
Background
Small animals are used in numerous capacities in biomedical research. By utilizing imaging at various time points for the same small animal, non-invasive data can be collected. This improves the science by allowing each animal to serve as its own control over time and it reduces the number of animals needed in research. In addition, significant advances in gene-editing techniques allow for studying diseases at the genetic and molecular level. This is not practical in any other way.
SPECT Projects
We have been developing a specialized collimator for cardiac mouse imaging that allows for focusing numerous pinholes at the mouse heart. The pinholes magnify the heart and allow for reconstruction in 3D without any motion of the mouse or the scanner. This project utilized 3D printing techniques to manufacture unique rectangular apertures to minimize overlap on the detectors.
We have been developing techniques to measure the flow of blood to the mouse heart. This is analogous to human imaging with PET. However, at the human scale PET imaging typically has better resolution than SPECT imaging due to differences in the acquisition process. However, SPECT imaging can magnify the region of interest when the object is small. Thus, SPECT imaging of mice with pinholes typically has better resolution than PET. Despite this, quantifying the flow of blood to the mouse's heart is technically very challenging.
Sample Images
We are able to image the mouse heart with very high resolution and use regions of interest to extract quantitative data.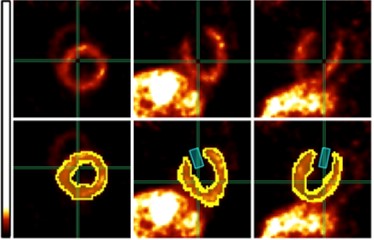 Related Publications