Anastassia Amaro, MD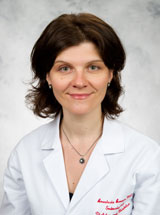 Anastassia Amaro, MD is an Associate Professor of Clinical Medicine in the Division of Endocrinology, Diabetes and Metabolism at the Perelman School of Medicine at the University of Pennsylvania and a research physician at the Center for Weight and Eating Disorders.
Dr. Amaro is a graduate of Sechenov Moscow Medical Academy in Moscow, Russia. She completed her residency in internal medicine at Lutheran General Hospital in Chicago, IL. She received her fellowship training in endocrinology at Washington University and Barnes-Jewish Hospital, St. Louis, MO. Board-certified in both internal medicine and endocrinology, Dr. Amaro is a specialist in the diagnosis, management, and treatment of endocrinological conditions including diabetes, weight and lipid disorders. Her research interests include various treatment methods of obesity and diabetes, and she is part of the research team at the Center for Weight and Eating Disorders.
Dr. Amaro can be contacted at the Center for Weight and Eating Disorders, 3535 Market Street, Suite 3108, Philadelphia, PA 19104. Her e-mail address is anastassia.amaro@uphs.upenn.edu
Back to Top