Rebecca L. Pearl, PhD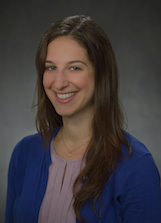 Rebecca L. Pearl, Ph.D., is an Adjunct Assistant Professor of Psychiatry at the University of Pennsylvania Perelman School of Medicine, where she was formerly an Assistant Professor and Director of Research at the Penn Center for Weight and Eating Disorders. Dr. Pearl is currently an Assistant Professor in the Department of Clinical and Health Psychology and in Social and Behavioral Sciences at the University of Florida (UF) College of Public Health and Health Professions. She received her A.B. from Duke University and her Ph.D. in Clinical Psychology from Yale University. She completed her pre-doctoral clinical internship at McLean Hospital/Harvard Medical School and her post-doctoral fellowship at Penn.
Dr. Pearl directs the UF Body Image and Stigma (BIAS) Lab, which investigates health- and appearance-based stigma. Her work explores biosocial mechanisms by which stigma affects health, as well as structural-level processes that may perpetuate or prevent stigma (such as in health care, policy, and media). Her research primarily focuses on weight stigma, with a particular interest in reducing internalized stigma among patients with obesity. Dr. Pearl's work is supported by a K23 Mentored Patient-Oriented Research Career Development Award from the National Heart, Lung, and Blood Institute of the NIH.
Dr. Pearl can be contacted at: rebecca.pearl@phhp.ufl.edu.
Recent publications include:
Pearl RL, Wadden TA, Bach C, et al. (2020). Effects of a cognitive-behavioral intervention targeting weight stigma: A randomized controlled trial. Journal of Consulting and Clinical Psychology; 88(5): 470-80.
Pearl RL, Wan MT, Takeshita J, Gelfand JM (2019). Stigmatizing attitudes toward persons with psoriasis among laypersons and medical students. Journal of the American Academy of Dermatology; 80(6): 1556-63.
Pearl RL (2018). Weight bias and stigma: Public health implications and structural solutions. Social Issues and Policy Review; 12(1): 146-82.
Pearl RL, Puhl RM. (2018). Weight bias internalization and health: A systematic review. Obesity Reviews; 19(8): 1141-63.
Pearl RL, Wadden TA, Hopkins CM et al. (2017). Association between weight bias internalization and metabolic syndrome among treatment-seeking individuals with obesity. Obesity; 25(2): 317-22.
Back to Top