Jena Shaw Tronieri, Ph.D.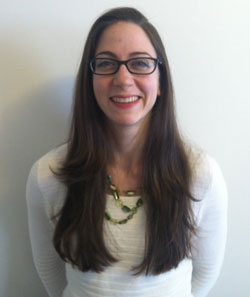 Jena Shaw Tronieri, Ph.D. is an Assistant Professor of Psychology in Psychiatry at the Center for Weight and Eating Disorders at the University of Pennsylvania's Perelman School of Medicine. She received her B.A. from Franklin and Marshall College, and her M.S. and Ph.D. in Clinical Psychology from Drexel University. She completed her pre-doctoral internship at Geisinger Medical Center.
Dr. Tronieri's research focuses on the treatment of obesity and related eating disorders. She is primarily interested in whether acceptance-based treatments improve the induction and maintenance of weight loss, and is investigating their application to the treatment of adolescent overweight. In her clinical work, Dr. Tronieri provides behavioral weight control therapy in both individual and groups settings. She also uses evidence-based treatments including cognitive therapy and Acceptance and Commitment Therapy to treat patients with eating disorders or with comorbid anxiety or depression.
Dr. Tronieri can be contacted at: University of Pennsylvania Perelman School of Medicine, 3535 Market St., Suite 3025, Philadelphia, PA 19104-3309, 215-898-7314. Her e-mail address is jenashaw@pennmedicine.upenn.edu.
Recent publications include:
Juarascio, A.J., Shaw, J.A., Forman, E.M., Timko, A., Herbert, J.D., Butryn, M.L., Bunnell, D., Matteucci, A. & Lowe, M.R. (2013). Acceptance and Commitment Therapy as a novel treatment for eating disorders: An initial test of efficacy and mediation. Behavior Modification. 37(4), 459-89. DOI: 10.1177/0145445513478633.
Forman, E.M., Butryn, M.L., Juarascio, A.S., Bradley, L.E., Lowe, M.R., Herbert, J.D. & Shaw, J.A. (2013) The Mind Your Health Project: A randomized controlled trial of an innovative behavioral treatment for obesity. Obesity. 21(6), 1119-26. DOI: 10.1002/oby.20169.
Shaw, J.A., Herzog, D., Clark, V., Berner, L.A., Eddy, K.T., Franko, D.L, & Lowe, M.R. (2012). Elevated pre-morbid weights in bulimic individuals are usually surpassed post-morbidly: Implications for perpetuation of the disorder. International Journal of Eating Disorders. 45(4), 512-23. DOI: 10.1002/eat.20985.
Forman, E.M., Shaw, J.A., Goetter, E.M., Herbert, J.D, Park, J.A., & Yuen, E.K. (2012). Long-term follow up of a randomized controlled trial comparing Acceptance and Commitment Therapy and Cognitive Therapy for anxiety and depression. Behavior Therapy. 43(4), 801-811. DOI: 10.1016/j.beth.2012.04.004.
Butryn, M.L., Forman, E.M., Hoffman, K., Shaw, J.A., & Juarascio, A.S. (2011). A Pilot Study of Acceptance and Commitment Therapy for Promotion of Physical Activity. Journal of Physical Activity & Health, 8(4), 516-22.
Back to Top