Thomas A. Wadden, PhD, Former Director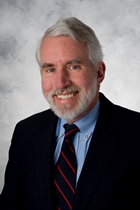 Albert J. Stunkard Professor of Psychology in Psychiatry
Former Director, Center for Weight and Eating Disorders
Perelman School of Medicine, University of Pennsylvania
Thomas A.Wadden, Ph.D. is the Albert J. Stunkard Professor of Psychology in Psychiatry at the Perelman School of Medicine at the University of Pennsylvania and Former Director of the Center for Weight and Eating Disorders. He received his A.B. in 1975 from Brown University and his doctorate in clinical psychology in 1981 from the University of North Carolina at Chapel Hill.
Dr. Wadden's principal research is on the treatment of obesity by methods that have included lifestyle modification, very-low-calorie diets, exercise, medication, and surgery. He has also investigated the metabolic and psychosocial consequences of obesity and weight loss. He has published over 350 scientific papers and book chapters and has co-edited four books, the most recent of which is Obesity and Associated Eating Disorders: A Guide for Mental Health Professionals (with Albert J. Stunkard, Terence Wilson, and Robert I. Berkowitz). His research has been supported for more than 30 years by grants from the National Institutes of Health.
Dr. Wadden has served on expert panels for the National Institutes of Health, the Federal Trade Commission, the U.S. Department of Veterans Affairs, and the Institute of Medicine. He served as President of the Obesity Society in 2006 and from 2008-2012 was an associate editor of Obesity, the journal published by the Obesity Society.
Dr. Wadden may be contacted at the University of Pennsylvania, 3535 Market Street, Suite 3027, Philadelphia, PA 19104. His e-mail address is: wadden@pennmedicine.upenn.edu.
Permission to use the Weight and Lifestyle Inventory (WALI) or the WALI Bariatric Surgery Version may be obtained by contacting Dr. Wadden. Please see the questionnaires below:
WALI Bariatric Surgery Version
MODEL Home Strength Training Program
Recent publications include:
Heymsfield SB, Wadden TA. Mechanisms, pathophysiology, and management of obesity. N Engl J Med. 2017;376:1492.
Wadden TA, Bray GA. Handbook of obesity treatment (second edition). New York, NY: The Guilford Press, 2018.
Wadden TA, Butryn ML, Hong PS, Tsai AG. Behavioral treatment of obesity in patients encountered in primary care settings: a systematic review. JAMA. 2014;312:1779-91.
Wadden TA, Chao AM, Bahnson JL, Bantle JP, Clark JM, Gaussoin SA, Jakicic JM, Johnson KC, Miller GD, Unick JL, Yanovski SZ, the Look AHEAD Research Group. End-of-trial health outcomes in Look AHEAD participants who elected to have bariatric surgery. Obesity (Silver Spring). 2019;27(4):581-590.
Wadden TA, Walsh OA, Berkowitz RI, Chao AM, Alamuddin N, Gruber K, Leonard S, Mugler K, Bakizada Z, Tronieri JS. Intensive behavioral therapy for obesity combined with liraglutide 3.0 mg: a randomized controlled trial. Obesity (Silver Spring). 2019;27:75-86.
Back to Top