Mini-Fellowship in Behavioral Sleep Medicine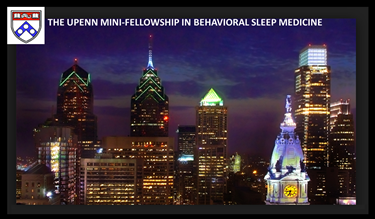 For clinicians interested in a broader exposure to Behavioral Sleep Medicine and sleep medicine in general, we offer a 3-day Mini-fellowship. This experience involves 1-on-1 didactic experiences that offer a broader background in sleep, extensive opportunity for questions and answers, and includes shadowing clinicians in the Penn Sleep Center. The goal is a more well-rounded BSM clinician. This experience may be seen as the culmination of a sequence of experiences that begin with the CBT-I Principles and Practice Basic Course and the CBT-I Advanced Practice course. The Mini-fellowship may also be appropriate for more seasoned clinicians that already have some experience in CBT-I. Typically, one fellowship is available per month.
Curious about the BSMP Mini-Fellowship? Click HERE to read our handout and click HERE to read about the experiences of our alumni!
Please See Below for Disclosure Information:
Contacts for the Mini-Fellowship
Dr. Michael Perlis
(215) 746-4378
mperlis@upenn.edu
Back to Top