Our Mission
The Department of Neurology has a strong mission and a rich history at the University of Pennsylvania. We have a long tradition of excellence in patient care, research and education in both adult and pediatric neurology. Since its establishment more than a century ago, our department has shaped the field of neurology by pioneering essential neurologic treatments…
Read more
A Letter from the Chair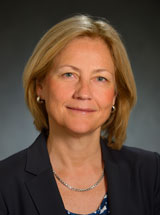 Welcome to the Department of Neurology at the Perelman School of Medicine at the University of Pennsylvania and University of Pennsylvania Health System! In Neurology, we work to develop effective treatments and therapies which requires the expertise, dedication and cooperation of scientists from many fields of research to treat basic and complex neurological disorders. Established in 1871, by Dr. Horatio Wood, the Department of the Neurology is the oldest Department in the country with a history of excellence in patient care, research and education in both adult and pediatric neurology. Today, Penn Neurology faculty members are engaged in groundbreaking research and clinical trials involving many complex neurological disorders. The Department includes over 130 full-time and associated faculty with a full range of clinical activities, based at the Perelman School of Medicine (PSOM), University of Pennsylvania Health System (UPHS), and Children's…
Read more
 Spotlight
ANNOUNCEMENT:
The American Academy of Neurology has announced the winners of the 2018 Medical Student Diversity Scholarships. These students will receive funding for travel to the AAN and for activities during the meetings. We at Penn should be very proud to note that three of the ten students are from our institution(s). Congratulations to the students and to the faculty who encourage these promising students at an early stage in their careers.
Congratulations to the following 2018 Medical Student Diversity Scholarship recipients:
Nadir Bilici, University of Pennsylvania Perelman School
Lauren B. Davis, MS.Ed, Childrens Hospital of Philadelphia
Maria E. Diaz Ortiz, University of Pennsylvania Perelman School
Congratulations to Shawniqua Williams for being chosen for the 2018 cohort of the AAN Diversity Leadership Program
This outstanding program provides promising underrepresented neurology faculty members with an opportunity to hone their leadership skills and to network with the some of the top brass of the AAN. Penn Neurology has supported a participant in this competitive program for 3 out of the 4 years of its existence.
The Marketing Department will be holding a headshot day for all providers who are either on-boarding or in need of an updated headshot at the Perelman Center for Advanced Medicine (PCAM) on Tuesday, May 15th. The information is as follows:
Tuesday, May 15th – PCAM SOUTH TOWER LEVEL 1, CONF ROOM A, 1172- 7:30 am -1:00 pm
Please reach out to the proper contacts in your service lines so they can let their physicians know about the upcoming dates. Any provider is welcome.
Photos will be taken on a first come, first serve basis.
Physicians should wear business attire as well as bring their lab coats.
If certain departments are interested in sending providers to the photo shoot, please find out their designated AU before providers come to the shoot.
 Events