Where Are They Now
Over the past 16 years, the Brodkin Lab has had the privilege of having so many amazing and talented students, co-workers, and collaborators share in our research. We've been very spoiled to have so many bright, hard working, and exceptional individuals join us on our journey. Check out some of the latest news on where they are now.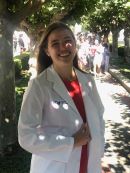 Congratulations to Kate Oksas who has received her white coat!! Kate worked in the Brodkin Lab for several years as an undergraduate of UPenn. We are so proud of all of the work that she did for our lab! Brilliant and kind, Kate is now taking on Medical School!
Lucero Cordero worked in our lab as a Conte Center Summer Scholar and also as a Research Assistant. While with us she worked on both our Research and Clinical projects, proving herself to be an invaluable member of our team. She graduated with a B.A. from Franklin & Marshall College in 2017. We are proud to report that she has since started working full time at Children's Hospital of Pennsylvania as a Clinical Research Assistant!
Arati Kriebich spent many years with our Brodkin Lab family, advancing our research efforts with her PhD in Neuroscience and her exceptional Immuno-histochemistry skills. Arati was elected in 2017 to the Glen Rock Borough Council and just recently made an impressive run for Congress.
Michele Edelmann worked in our lab as an Undergraduate. She then went on to earn her VMD, and in 2016 became a Diplomate of the American College of Veterinary Ophthalmologists. Click on her picture for more information.
Eric Pauley worked in the Brodkin Lab as an Undergraduate. He spent many hours helping to score Social Approach Behaviors associated with Autism Spectrum Disorders. We are proud to report that he is now an MD currently working at the University of North Carolina School of Medicine in Cardiology. Click on his picture for more info.
Back to Top