Photon SARRP
Recently, a new SARRP platform was made available to the facility by funds from the Mark Foundation and Andy J. Minn, MD, PhD. The third generation Small Animal Radiation Research Platform (SARRP) is equipped with high resolution CT panel, motorized variable collimator (MVC), 360 degree rotating gantry, set of standard fixed collimators, heated rodent positioning stages and advanced treatment planning software (TPS). The new SARRP offers the ability to acquire cone-beam computed tomographic imaging (CBCT) of rodents with variable voxel resolution down to 0.007 mm and image guided radiation therapy (IGRT) with isocenteric targeting accuracy of 0.25 mm." on the CARC equipment page under "Photon SARRP
Description:
The SARRP research platform has a flexibility of design that will meet any initial specification, and allows individual user groups to add on supporting imaging technologies to meet their future research needs—enabling continual system adaptation to facilitate the development of new and innovative applications.
The repositionable product frame and automatically rotatable specimen stage allow radiation to be delivered at multiple angles without the need to reposition the specimen between exposures.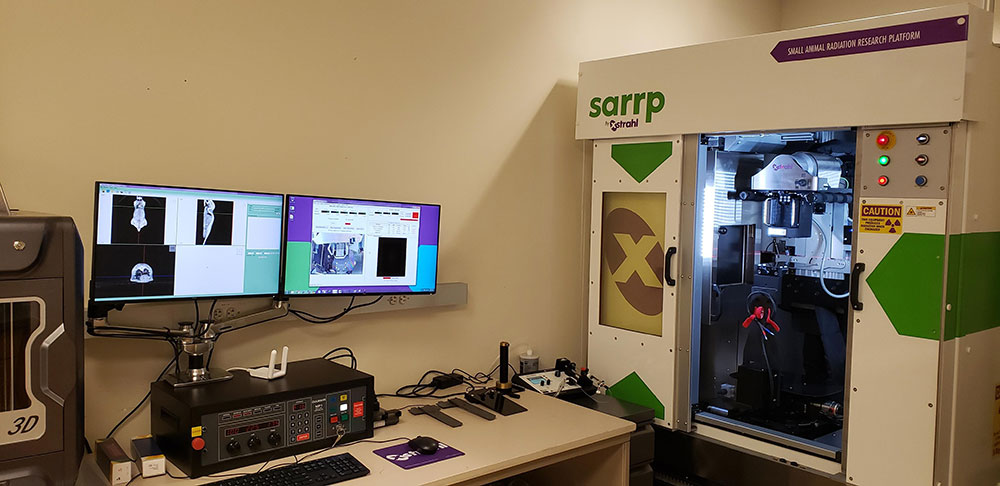 \
The third generation SARRP System Features
Isocenteric targeting accuracy of 0.25 mm
On board cone beam CT and image reconstruction
Minimum field size of 0.5 mm in diameter
Higher resolution (up to 70 micron) CBCT panel for kV imaging
Temperature controlled rodent positioning stages to maintain physiological temperatures for rodents during longer irradiating sessions
360 degree isocentric gantry rotation and robotic specimen stage enable non-coplanar field arrangements
Motorized variable collimator (MVC)
Integrated shielding design
SARRP Research Platform Advantages
Provides state-of-the-art 3D volumetric image guidance for localization and targeting of the dose
Conformal dose minimizes exposure to non-targeted tissues and organs
Non-invasive procedure
Easy to use, reliable, and reproducible
Customizable to meet new and innovative applications
High resolution, low imaging dose, on board CT imaging and 3D reconstruction
Image fusion options for easy target localization and avoidance of organs at risk
High precision beam geometry to achieve conformal dose distributions
Open platform to enable the addition of other imaging modalities for future research
Applications
The SARRP research platform enables researchers to replicate the radiotherapy process of imaging, target localization and radiotherapy treatment delivery techniques employed when treating patients in clinical oncology departments. In order to improve the efficiency of radiation therapy and minimize the short and long term side effects of cancer treatment it is vital to study radiation biology using in vivo models.
Radiobiology
Preclinical studies
DNA damage response
Tumor biology and the micro-environment
Bystander effects
Radiosensitizers
Cardiovascular toxicity
Oncology research
Preclinical validation of radiotherapy – assessing the risks of radiation exposure balanced against the efficacy of the treatment in controlling and eliminating tumors
Normal tissue injury by radiotherapy
Immunology disease
Cardiovascular diseases
Radiobiological effectiveness
Characterize tumors that may not respond to ionizing radiation
DNA damage response
Can couple spatially targeted radiotherapy with molecularly targeted therapies to optimize treatments for solid tumors
Mechanism of tumor control