Leadership
Junwei Sun, M.S., M.B.A.
Chief Administrator, CAROT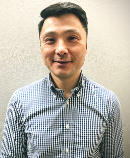 Mr. Sun obtained a B.S. in Microbiology at University of Texas, Austin, an M.S. in Immunology at University of Pennsylvania and an M.B.A. at University of Western Ontario. He served as Administrative Director of the Center for Cellular and Molecular Therapeutics at The Children's Hospital of Philadelphia and was then recruited to University of Pennsylvania to build the Center for Advanced Retinal and Ocular Therapeutics (CAROT). Junwei Sun has vast experience in project management, budget supervision, personnel management, regulatory management, grant submissions, and translational research, having been instrumental in moving forward the preclinical and clinical studies which led to the approval of the first gene therapy for a genetic disease ("Luxturna").
© The Trustees of the University of Pennsylvania | Site best viewed in a supported browser. | Report Accessibility Issues and Get Help | Privacy Policy | Site Design: PMACS Web Team.