Learning Health System Science
The Research Storefront is a valuable resource for clinical research scientists looking for self service tools that provide the ability to explore real world data with Penn privacy protections already in place. The Storefront provides comparisons of all tools including; what data is available, how much or how little PHI is included, advantages, disadvantages and potential good fit use cases.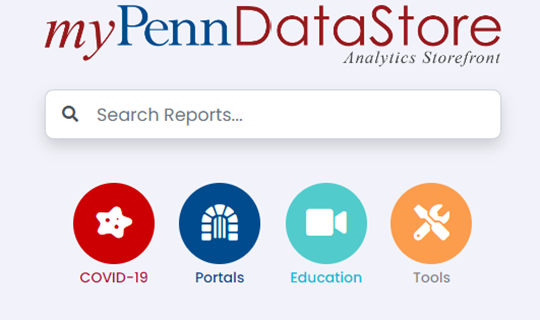 Research Storefront
Needs UPHS login or VPN required to access Research Data Store.
The following tools may all be used to support various types of observational focused research.
TriNetX

Penn Network
Research Network
Linked Network

Slicer Dicer
PMBB – Pennn Medicine Biobank
IMRD – IQVIA Medical Records Database
Cosmos
Additionally, there are several offices which support data access, brokering of data, natural language processing (NL), large language models (LLM) as well as the computing support that may be needed for use with these large datasets.
Data Brokering
The Data Analytics Center (DAC)  is a Penn resource for research teams to use in order to access data in a capacity that can be used for research. Research teams may contact the DAC to generate a list of subjects to recruit, explore a particular cohort of patients or to access data sets to use in retrospective and / or observational research work. The DAC may also serve as an honest broker of data to a research team in an ongoing capacity throughout the course of a trial.  
In addition to the DAC, some departments have honest brokers within their department who can provide data. If you are unsure if your department has one, please contact the office of clinical research. If working with oncology data or if you are in need of oncology data, these additional resources may be helpful.
Data Processing
The Institute for Bioinformatics can support with developing computational methods for artificial intelligence, data integration, data mining, machine learning and natural language processing. Click to view The Institute for Bioinformatics website.
TriNetX
Penn Network
Research Network
Linked Network
Data Storage
PMACS/ DART provides high performance computing cluster support for researchers at Penn as well as virtual server options.
DNA Nexus DNAnexus is a cloud-based platform that provides a secure, scalable computational environment for large scale data analysis.  The platform provides a graphical user interface as well as a command-line interface. If you are interested in exploring this tool, please contact Marylyn Ritchie- Penn Institute for Biomedical Informatics.