PennCRMS
About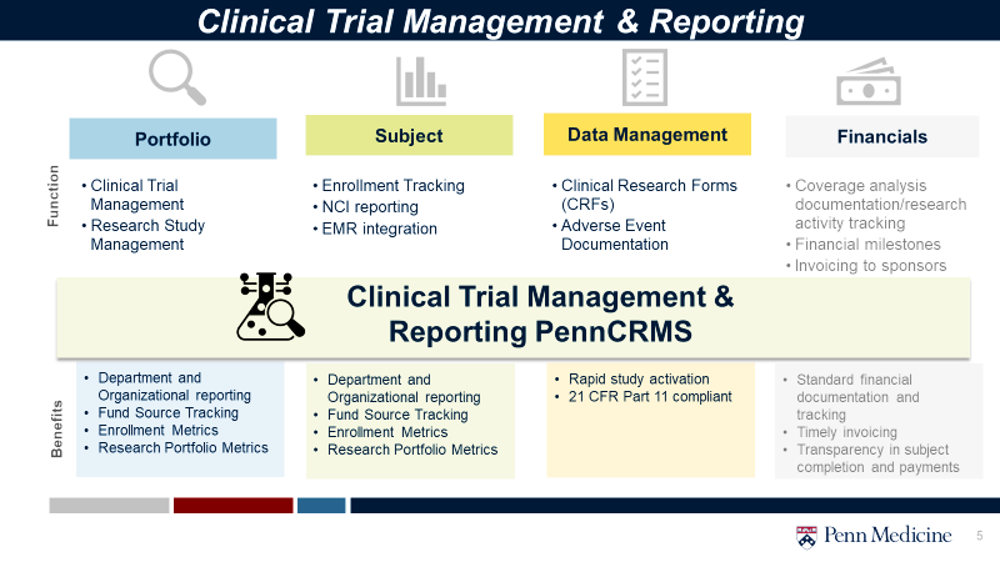 The PennCRMS (Velos) is a clinical research management system designed to support and manage research in the Perelman School of Medicine (PSoM). This centralized database is designed to help study coordinators, principal investigators, faculty and research staff track and report on nearly every aspect of a clinical trial.
The PennCRMS enables the study team to manage aspects of research such as subject tracking, CRF collection, data management, reporting and financial tools. Study calendars can be created based on the protocol to track milestones. The benefits of this centralized management system include improved regulatory compliance, visibility into study status and study progress, study data aggregation and financial oversight. The PennCRMS interface with PennChart (EPIC) synchronizes patient enrollment statuses between the two systems, creating one consistent source of enrollment data. Study, patient, and demographic data remain current and accurate in both systems.
The information below outlines the training required for new accounts, reactivations, and those external to University of Pennsylvania. Access to the PennCRMS (Velos) requires training and may depend on your role or your previous access.
Please Note: PennCRMS account are deactivated after 6 months of inactivity. Log-in every 6 months to keep your account active.
PennCRMS Access: Coordinators, Research Assistants, Study Team Members, Project Managers
The PennCRMS Fundamentals Instructor-led Training is a synchronous virtual session, includes a hands-on training exercise and reviews the following workflows: study registration, study management, patient management/enrollment.
NOTE: This virtual training allows for 15 attendees and can be self-assigned. Access and Credit will be given after attending the entire class and completing the training exercise.
PennCRMS Access: PIs, Faculty, Residents, Fellows
Principal Investigators, Faculty, Residents and Fellows can choose from two online training modules based on their needs and use of the PennCRMS. Use the decision tree below to choose the appropriate training and the corresponding link to the course in Workday Learning.
Contact OCR's PennCRMS Team if you have any questions about the PennCRMS. Click on the appropriate link below to go directly to the training in Workday Learning.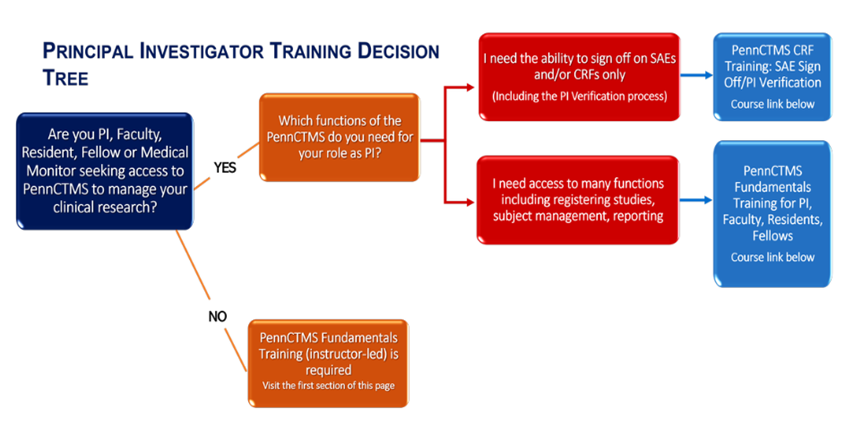 -PennCRMS CRF Training: SAE Sign-off/PI Verification
-PennCRMS Fundamentals: PIs, Faculty, Residents, Fellows
Reactivating a PennCRMS Account
PennCRMS accounts are deactivated after 6 months of inactivity. If you have switched job roles and/or departments, this could impact your access and modifications to your account may be needed. To reactivate your PennCRMS account:
Submit a request to PennCRMS IT Support to have your account reactivated or via the PennCRMS Online Submission Form. Be sure to select "reactivate account" in your ticket category. A member of the PennCRMS team will contact you via your ticket outlining the requirements for reactivation.

Account deactivated 6-12 months
Account deactivated 12-24 months

Access form required
PennCRMS Refresher required
Submit a ticket to the PennCRMS IT Support team ticket indicating training refresher is completed. If you have not submitted your PennCRMS access form, attach it to this ticket.

Account deactivated 24+ months

Access form required
In-person training is required. Self-registration is via Workday
PennCRMS Advanced Training (CRFs, calendars and data extraction)
OCR offers training classes on advanced functions of the PennCRMS such as building calendars or case report form (eCRFs). Submit a PennCRMS IT Support ticket to request this training.
Please Note: You should have an active PennCRMS account to request this training.
External PennCRMS Access (non-Penn staff)
Non-Penn employees/external users will need a Guest PennKey. A PennKey is a unique username required to authenticate your identity for access to many of Penn's online resources and systems, including Workday Learning, the Learning Management System.
The PennCRMS Fundamentals Training: Instructor-led class (Virtual) is required for all new PennCRMS users and can be self-assigned in Workday Learning
External users should follow these steps:
A Penn staff member "sponsoring" the external user should submit a request for a guest PennKey
Information about sponsoring a guest and guest PennKey form can be found HERE
PennCRMS Links to System
For data entry and study management
PennCRMS User Manuals
Comprehensive guide to registering studies and study administration
Comprehensive guide to managing study statuses, study teams, study set up including calendars
Comprehensive guide to managing subject statuses, status definitions
PennCRMS Support
PennCRMS Policy Documents
Study Management
Manage study site statuses, study start/end date, and current status
Adding study team members, manage access rights, and deactivating team members
Subject Management
Subject statuses and bi-directional flow between PennCRMS and PennChart
Recommended workflow for subject statuses
Where to find the universal identifier in EPIC
Creating a patient record in your home organization when not found in an EPIC search
Creating an external organization patient record
Reporting
Overview of helpful quick reports in the PennCRMS
Comprehensive manual for using quick reports
Use Quick Reports for subject status counts, enrollments, and accrual
Post-Training Tip Sheets for PIs and Research Staff
At a glance tips to help staff post-training or if you need a refresher on functions such as adding people to study teams, updating statuses or PennCRMS requirements
Process overview for PI and Medical Directors to sign off on SAE CRFs in the PennCRMS.
Calendars and Forms
Assigning calendars (Patient Schedules) to subjects and managing visits/events
Managing form statuses for eCRFs and monitoring
Managing query statuses on monitored forms
CONTACT
Do you have questions about the PennCRMS? Contact the PennCRMS Team.