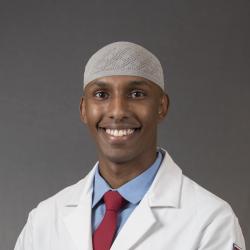 ---
More Info
Scholar
 Director, of Global Radiology Outreach & Education, CHOP | Director, Health Equity Leadership Track Radiology Residency, University of Pennsylvania
 Botswana | Ethiopia | Nepal
  Diagnostic Imaging | Health Disparities | Health Equity | International Medical Education | Medical Education
Languages: English, Somali
BIO STATEMENT
Dr. Noor is an attending physician in the Departments of Radiology at the University of Pennsylvania and Children's Hospital of Philadelphia. He completed his undergraduate education at Macalester College (St. Paul, MN) and received his medical degree from the Alpert Medical School of Brown University (Providence, RI). Given his experiences as a refugee from Somalia, Dr. Noor has long held a passion for working toward a more equitable future for low and middle-income countries (LMICs). His current interests are primarily in medical education and in implementing sustainable radiology services in resource-limited areas of the world.
Recent Global Health Projects
Dr. Noor is the Director of Global Radiology Outreach & Education at the Children's Hospital of Philadelphia and the Director of the Health Equity Leadership Track in the radiology residency program of the University of Pennsylvania.
He also serves as the Program Manager for RAD-AID Botswana, an international organization seeking to increase and improve radiology in LMICs.
Select Publications
Dako F, Noor A, Goity L, Scanlon M. Training Radiologists for Global Service. Applied Radiology. 2022 Jan 1;51(1):34-7.

Miranda-Schaeubinger M, Noor A, Leitão CA, Otero HJ, Dako F. Radiology for Thoracic Conditions in Low-and Middle-Income Countries. Thoracic Surgery Clinics. 2022 Aug 1;32(3):289-98.
Jalloul M, Derbew HM, Miranda-Schaeubinger M, De Leon Benedetti L, Mekete Y, Jr Carbajal JA, Doherty M, Noor A, Dako F, Otero HJ. Case competition sessions: a global education and academic engagement tool. Pediatr Radiol. 2023 Aug 3. doi: 10.1007/s00247-023-05723-5. Epub ahead of print. PMID: 37535093.
Last Updated: 24 August 2023