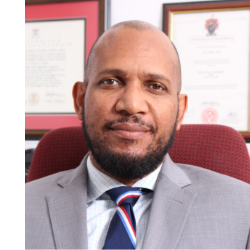 ---
More Info
International Scholar
 Senior Lecturer and Family Physician | University of Botswana
 Botswana
  Basic Life Support/Resuscitation | HIV/AIDS | Maternal Child Health | Mental health
Languages: Setswana (Fluent), English (Fluent)
Bio statement
As a family physician, my practice of medicine involves providing medical care to a wide variety of people. Serving in primary care settings provides a unique opportunity to interact with undifferentiated patients from different backgrounds. It became evident early in my exposure to this situation that equity in health is important and addressing it is an ongoing effort requiring a strong understanding of the context in which diseases occur as well as collaboration with others with different experiences.As a medical educator and researcher, my work brings me in contact with many others in the global health space.
Recent global health projects
Post abortion care in Botswana: In this project, our team evaluated post abortion care in a country with restrictive abortion laws. We conducted a retrospective review of records of patients admitted across four hospitals in Botswana. Our results highlighted health systems problems that would need to be address to improve post abortion care and potentially reduce maternal mortality. Recommendations from this project have been shared with the Botswana Ministry of Health for consideration.
Community Oriented Primary Care: This project is focused on improving health care among a defined population in a semi-urban population in North Western Botswana. We have assembled a team including researchers, clinicians and policy makers to implement and assess the utility of a community oriented primary care project. The project will involve community members in identifying priority health issues.
Selected publications
Tsima BM, Melesse T,Mogobe KD, Chabaesele K, Rankgoane G, Nassali M, Habte D. Clinical use of blood and blood components in post-abortion care in Botswana. Transfusion Medicine.2016. doi: 10.1111/tme.12320
Melese T, Habte D, Tsima BM, Mogobe KD, Chabaesele K, Rankgoane G, et al. (2017) High Levels of Post-Abortion Complication in a Setting Where Abortion Service Is Not Legalized. PLoS ONE 12(1): e0166287. doi:10.1371/journal.pone.0166287
Tsima B, Ratcliffe SJ, Schnoll R, Frank I, Kolson DL, Gross R. Is Tobacco Use Associated with Neurocognitive Dysfunction in Individuals with HIV?. JIPAC. 2018;17:1-7. DOI: 10.1177/2325958218768018
Rajeswaran L, Cox M, Moeng S, Tsima BM. Assessment of nurses' cardiopulmonary resuscitation knowledge and skills within three district hospitals in Botswana. Afr J Prm Health Care Fam Med. 2018;10(1), a1633. https:// doi.org/10.4102/phcfm. v10i1.1633
Last Updated: 26 January 2022