Bruno Fokas Sunguya, MD, MSc, PhD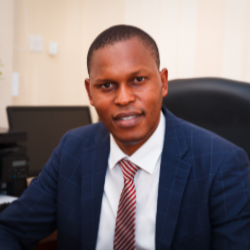 ---
More Info
International Scholar
 Deputy Vice Chancellor, Research and Consultancy
 Tanzania, United Republic of
  HIV/AIDS | Maternal Child Health | Non-communicable disease | Nutrition
Languages- English, Japanese
BIO STATEMENT
Dr. Sunguya is an Associate Professor of Public Health Nutrition, Deputy Vice Chancellor for Research and Consultancy at MUHAS, Visiting Associate Professor (Kumamoto University Japan), and Honorary Senior Fellow (Oxford University). His research areas include Nutrition, Adolescent, Maternal and Child Health, and HIV/AIDS, conducted and disseminated widely in more than 100 papers, and book chapters. He serves as an Associate Editor for the American Journal of Clinical Nutrition and BMC nutrition journal; a member of number of national committees; the WHO Nutrition Guidance Expert Advisory Group-Subgroup on Diet and Health; and a contact person for research and consultancy for MUHAS.
RECENT GLOBAL HEALTH PROJECTS
1. Leading the Bio-behavioral survey among key populations in selected regions of Tanzania. The first phase of the study was conducted in 2022 in collaboration with ICAP, National AIDS Control Program, and the CDC. ACP, CDC: Jan-Dec 2022: PI
2. Leading a survey on violence against women and girls in five regions in Tanzania. The study doubled as Women's Health Study: Violence Against Women Survey 2022 Mainland Tanzania, aimed to understand the context of gender-based violence, access to services, and aimed to develop interventions against such challenge in Tanzania. The project is funded by the United Nations Women Organization.
3. Leading the Data Quality Assessments (DQAs) and Data Quality improvement project in DoD/WRAIR-supported facilities through funding from the US President's Emergency Plan for AIDS Relief (PEPFAR) in Tanzania. The five year project is funded by PEPFAR through the US Department of Department.
4. EPRENUT (2022-2026): Leading the research and capacity building projects on nutrition epidemiology in Tanzania through the two funded projects i) Enhanced partnership for research capacity of next generation of nutrition researchers in Norway, Tanzania and DR-Congo (EPRENUT) funded by NORPART; and ii) Building national capacity through training of the next generation of Nutrition epidemiologists at Master and PhD level, funded by NORHED II. These five year projects have helped to start the MSc Nutritional Epidemiology program in Tanzania, under my leadership.
5. ENGAGE: Co-leading the NIH-funded D43 program on Bioethics, "ENGAGE" Educating and Developing Bioethicists in Tanzania. The prime for this grant is UPENN, and the training is taking place at MUHAS. It is training and building capacity of Tanzanian scholars on Bioethics through PhD training.
The three national surveys reported in the current web-page are all completed and we are now working on their publications. Their reports are under the MoH website (https://nacp.go.tz/reports/)
SELECTED PUBLICATIONS
1. Sunguya BF, Zhu S, Paulo LS, et al. Regional Disparities in the Decline of Anemia and Remaining Challenges among Children in Tanzania: Analyses of the Tanzania Demographic and Health Survey 2004-2015. Int J Environ Res Public Health. 2020;17(10): E3492. Published 2020 May 17. doi:10.3390/ijerph17103492
2. Natukunda J, Sunguya B, Ong KI, Jimba M. Adapting lessons learned from HIV epidemic control to COVID-19 and future outbreaks in sub-Saharan Africa. J Glob Health Sci. 2020 Jan;2:e21
3. Masoud S, Kamori D, Godfrey B, Mahiti M, Sunguya B, Lyamuya EF, Ueno T. Circulating HIV-1 integrase genotypes in Tanzania: Implication on the introduction of Integrase Inhibitors-based ART regimen. AIDS Res Hum Retroviruses. 2020 Mar 4. doi: 10.1089/AID.2020.0021. PMID:32126792
4. Darling AM, Sunguya B, Ismail A, Manu A, Canavan C, Assefa N, Sie A, Fawzi W, Sudfeld C, Guwattude D. Gender differences in nutritional status, diet and physical activity among adolescents in eight countries in sub-Saharan Africa. Trop Med Int Health. 2020 Jan;25(1):33-43. doi: 10.1111/tmi.13330. PMID: 31693777


Last Updated: 06 March 2023