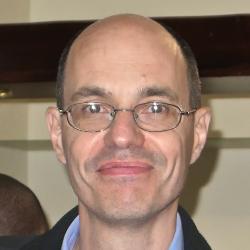 ---
More Info
Scholar
 Director | Botswana- Upenn Partnership
 Botswana | Lesotho
  Academic Partnerships | Antimicrobial Resistance | Capacity-building | Health Equity | Health Systems Strengthening | Human Resources for Health | Sustainability
Languages: Italian (native), English (fluent)
Bio statement
Dr. Corrado Cancedda is Director of the Botswana University of Pennsylvania Partnership and Strategic Advisor for Academic Partnerships at the Center for Global Health of the Perelman School of Medicine, at the University of Pennsylvania. Prior to his current position, he was Associate Physician at Brigham and Women's Hospital and Assistant Professor at Harvard Medical School. Dr Cancedda has over twelve years of experience as a clinician, educator, researcher, implementer, and scholar in Rwanda, Sierra Leone, Liberia, and Lesotho. His academic interest lies in the implementation and evaluation of large-scale and multi-disciplinary Global Health Initiatives.
Recent global health projects
Strategic plan for BUP
Launch of primary health care project in the Okavango Delta
Epidemiology of MDRO infections in health facilities in Botswana
Selected publications
Cancedda C, Bonds MH, Nkomazana O, et al Sustainability in global health: a low ceiling, a star in the sky, or the mountaintop? BMJ Global Health 2022;7:e011132.
Cancedda C, Cotton P, Shema J, et al. Health professional training and capacity strengthening throughinternational academic partnerships: the first 5 years of the Human Resources for Health Program in Rwanda. Int JHealth Policy Manag. 2018;x(x):x–x. doi:10.15171/ijhpm.2018.61
Cancedda C, Riviello R, Wilson K, et al.Building Workforce Capacity Abroad While Strengthening Global Health Programs at Home: Participation of Seven Harvard-Affiliated Institutions in a Health Professional Training Initiative in Rwanda. Acad Med. 2017 May;92(5):649-658. doi: 10.1097/ACM.0000000000001638
Cancedda C, Davis SM, Dierberg KL, et al. Strengthening Health Systems While Responding to a Health Crisis: Lessons Learned by a Nongovernmental Organization During the Ebola Virus Disease Epidemic in Sierra Leone. J Infect Dis. 2016 Oct 15;214(suppl 3):S153-S163. Epub 2016 Sep 28
Cancedda C, Farmer PE, Kerry V, et al. Maximizing the Impact of Training Initiatives for Health Professionals in Low-Income Countries: Frameworks, Challenges, and Best Practices. PLoS Med. 2015 Jun 16;12(6):e1001840. doi: 10.1371/journal.pmed.1001840. eCollection 2015 Jun
Cancedda C, Farmer PE, Kyamanywa P, et al. Enhancing formal educational and in-service training programs in rural Rwanda: a partnership among the public sector, a nongovernmental organization, and academia. Acad Med. 2014 Aug;89(8):1117-24. doi: 10.1097/ACM.0000000000000376
Last Updated: 28 March 2023