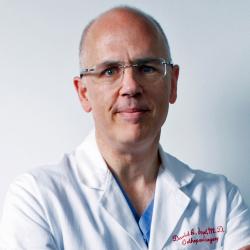 ---
More Info
Scholar
 Professor of Orthopedic Surgery | Children's Hospital of Philadelphia
 Iraq | Pakistan | Nepal
  Global Surgery | Orthopedics | Pediatrics
Languages: English (native)
Bio statement
Dr. Spiegel has been active in surgical care in LMICs for > 20 years, mainly in Nepal at the Hospital and Rehabilitation Centre for Disabled Children. He is also an honorary professor at the University of Basra In Basra, Iraq. He has served on national committees (POSNA, AAOS) concerning service/teaching in LMICs. He served as a consultant for WHO in Mongolia/Somalia, was on the steering committee for the WHO's Global Initiative for Emergency and Essential Surgical Care, and has delivered more than 300 lectures including Nepal, Iran, Iraq, China, Pakistan, Tanzania, Mongolia and Somalia. He has also co-edited a textbook "Global Orthopaedics: Caring for Musculoskeletal Conditions and Injuries in Austere Settings". He has been the recipient of five 5 national/international humanitarian awards.
Recent global health projects
Long term follow-up of clubfoot treated by Ponseti method in Nepal, as a follow-up to a project that my friends and I started in 2004. The paper is unique in being the only long term follow-up of this treatment method from a low income country, and also the only long term follow-up in patients treated after walking age. The paper is under review.
Evaluated surgical service availability and readiness in 8 African countries, which was WHO project and published in 2017 in BMJ open (see below)
Selected publications
Premkumar A, Ying X, Mack Hardaker W, Massawe HH, Mshahaba DJ, Mandari F, Pallangyo A, Temu R, Masenga G, Spiegel DA, Sheth NP (2018). Access to Orthopaedic Surgical Care in Northern Tanzania: A Modelling Study. World J Surg. 2018 Apr 25. doi: 10.1007/s00268-018-4630-x.
LeBrun DG, Talwar D, Pham TA, Banskota B, Spiegel DA (2017). Predictors of healthcare seeking delays among children with chronic musculoskeletal disorders in Nepal. J Epidemiol Glob Health. 2017 Dec;7(4):299-304. doi: 10.1016/j.jegh.2017.10.002.
Spiegel DA, Droti B, Relan P, Hobson S, Cherian MN, O'Neill K. Retrospective review of Surgical Availability and Readiness in 8 African countries (2017). BMJ Open. 2017 Mar 6;7(3):e014496. doi: 10.1136/bmjopen-2016-014496.
Johnson RR, Friedman JM, Becker AM, Spiegel DA (2017). The Ponseti Method for Clubfoot Treatment in Low and Middle-Income Countries: A Systematic Review of Barriers and Solutions to Service Delivery. J Pediatr Orthop. 2017 Mar;37(2):e134-e139. doi: 10.1097/BPO.0000000000000723.
Gupta S, Groen TA, Stewart BT, Shrestha S, Spiegel DA, Nwomeh BC, Groen RS, Kushner AL (2016). The spatial distribution of injuries in need of surgical intervention in Nepal. Geospat Health. 2016 May 31;11(2):359. doi: 10.4081/gh.2016.359.
Banskota B, Shrestha S, Rajbhandari T, Banskota AK, Spiegel DA (2015). A Snapshot of 1001 Children Presenting with Cerebral Palsy to a Children's Disability Hospital. J Nepal Health Res Counc. 2015 Jan-Apr;13(29):31-7. PMID: 26411710.
Shawar YR, Shiffman J, Spiegel DA (2015). Generation of political priority for global surgery: a qualitative policy analysis. Lancet Glob Health. 2015 Aug;3(8):e487-e495. doi: 10.1016/S2214-109X(15)00098-4.
Spiegel DA, Nduaguba A, Cherian MN, Monono M, Kelley ET (2015). Deficiencies in the availability of essential musculoskeletal surgical services at 883 health facilities in 24 low- and lower-middle-income countries. World J Surg. 2015 Jun;39(6):1421-32. doi: 10.1007/s00268-015-2971-2.
Spiegel DA, Misra M, Bendix P, Hagander L, Bickler SW, Saleh CO, Ekeke-Monono M, Baah-Odoom D, Caldwell A, Irons B, Amir S, Taylor R, Layne M, Hailu H, Awais SM, Price RR, Crockett S, Islam M (2015); Health Systems Strengthening Working Group of the Global Initiative for Emergency and Essential Surgical Care. Surgical Care and Health Systems. World J Surg. 2015 Sep;39(9):2132-9. doi: 10.1007/s00268-014-2928-x.
Moroz PJ, Spiegel DA (2014). The World Health Organization's action plan on the road traffic injury pandemic: is there any action for orthopaedic trauma surgeons? J Orthop Trauma. 2014;28 Suppl 1:S11-4. doi: 10.1097/BOT.0000000000000105.
Last Updated: 28 March 2023