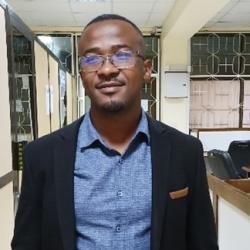 ---
More Info
International Scholar
 Research Fellow and Tutorial Assistant | Epidemiology and Biostatistics Department, Muhimbili University of Health and Allied Sciences
 Tanzania, United Republic of
  Cancer epidemiology | Disease Surveillance | Outbreaks | Road Traffic Injuries
Languages: English, Swahili
Bio statement
BIO STATEMENT: A low uptake of research for policy changes fuelled my interest in my new niche, dissemination research, where I envision promoting stakeholders' engagement and collaboration in addressing contemporary health challenges through generating and utilizing local evidence. In Tanzania and at MUHAS in particular, I have been engaged in overseeing capacity-building courses and workshops on scientific writing, grants applications and management, and research dissemination. I have also been coordinating the dissemination of research and innovation through institutional and national symposia, conferences, and roundtable discussions that engage different stakeholders. Surveillance systems for road traffic injuries and cancers remain poorly developed in Tanzania as in most LMICs. As a growing epidemiologist, I am looking forward to exploring and securing collaborations and opportunities that I can leverage on to identify gaps and establish more effective and reliable surveillance systems.
Recent global health projects
Acceptability of an integrated school-based HPV vaccination program within two districts of Tanzania: A qualitative descriptive study
The country recently started to roll out HPV vaccines among adolescent girls, and schools were considered the most suitable platforms for implementing this program. The research was therefore geared to establish the acceptability of these vaccines among adolescent and their societies.
As a supplemental to this, we had another related project titled, Feasibility and Sustainability of a School-Based Platform for Integrated Delivery of HPV Vaccination with Adolescent Health Services in Tanzania: Qualitative Insights from Planning Stakeholders and Program Implementers.
Selected publications
Last Updated: 19 July 2023