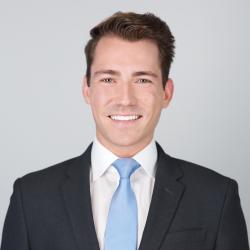 ---
More Info
Associate Scholar
 Plastic & Reconstructive Surgery Resident | University of Pennsylvania
 Botswana
  Cleft Palate & Lip | Craniofacial Surgery
Languages: English (Native), Spanish (intermediate)
Bio statement
Dillan is a Plastic & Reconstructive Surgery resident at Penn and Co-Chair of the Young Leadership Board at Smile Train. His previous work has focused on cleft and craniofacial surgery epidemiology in Botswana supported by a grant from the Center for Human Appearance; development of a sustainable ambulatory surgery center in Jinja, Uganda; and cleft community engagement in Mexico City. Dillan completed his MD at the Icahn School of Medicine at Mount Sinai with a Distinction in Global Health and BA at Johns Hopkins University.
Recent global health projects
I serve as the co-chair of the Young Leadership Board of Smile Train, the world's largest international cleft surgery organization. In May 2023, we completed a site visit in Mexico City to our partners at SUMA. We are intimately involved in building multidisciplinary cleft care capacity through surgery, speech, orthodontics, nutrition, speech, and counseling. The young leadership board also held its most recent meeting in June 2023 in New York City.
I've been involved in characterizing the burden of cleft and craniofacial conditions in Botswana through the Botswana-UPenn Partnership. I was awarded a $20,000 grant for this work through the Center for Human Appearance under PI Dr. Jesse Taylor. Our preliminary data demonstrates a high burden of unmet cleft surgical needs in Botswana.
Selected publications
(Under review) Abasi U, Damoi JO, Kalumuna A, Park S, Cuva D, Emoru A, Binoga MB, Villavisanis DF, Kiani SN, Glerum K, Waye J, Marin M, Zhang L. Ambulatory Surgery Center: A Novel Approach to Providing Surgical Care in Uganda. World Journal of Surgery. Villavisanis DF*, Kiani SK*, Taub PJ, Maron ML. Impact of COVID-19 on Global Surgery: Challenges and Opportunities. Annals of Surgery Open. *These authors contributed equally to this work.
https://journals.lww.com/aosopen/fulltext/2021/03000/impact_of_covid_19_on_global_surgery__challenges.19.aspx Villavisanis DF, Trinidad S, Zhang L. Medical Students and Global Surgery Efforts at Academic Medical Centers. JAMA Otolaryngology – Head & Neck Surgery. 2019 May;145(7):690-691. PMID: 31145429. https://jamanetwork.com/journals/jamaotolaryngology/article-abstract/2734872
Last Updated: 05 July 2023