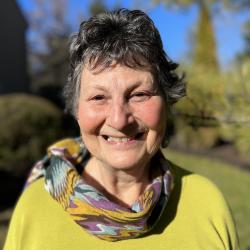 ---
More Info
Associate Scholar
 Adjunct Assistant Professor, Rutgers Global Health Institute, Rutgers the State University of New Jersey
 Rwanda | Uganda | Botswana
  Health outcomes | Healthcare Delivery | Oncology
Languages: English, Spanish (Intermediate)
BIO STATEMENT
As a health researcher, I conducted epidemiologic and health outcomes studies in US settings from academia and then as a pharma consultant. I transitioned to global health when I founded/directed a small consulting company engaged in data-based retrospective studies and prospective quality assurance assessments in several Eastern European and Latin American countries. In 2017, I joined the Rutgers Global Health Institute as an adjunct assistant professor focused on oncology care in sub-Saharan Africa. My commitment to patient outcomes reflects my prior experiences with breast cancer. It's galvanizing to support the expansion of effective and patient-oriented cancer care in sub-Saharan African countries.
Recent Global Health Projects
Recent projects in sub-Saharan Africa included: a systematic review and meta-analysis of receptor-defined breast cancer in five East African countries published in JCO Global Oncology, 2021. Subsequently, I was involved in the prioritization of needs and report writing related to the Botswana Comprehensive Cancer Care and Prevention Needs Assessment.
Select Publications
Popli P, Gutterman EM, Omene C, Ganesan S, Mills D, Marlink R. (2021) Receptor-defined breast cancer in five East African countries and its implications for treatment: A systematic review and meta-analysis. JCO Global Oncology, 7:289-301. PMID: 33591798, DOI;
10.1200/GO.20.00398.PMID: 33591798

Ludwig E, Jorgensen L, Gray S, Munson S, Chou K, Gutterman EM. (2014) A retrospective study to assess the clinical burden of multi-cause and pneumococcal pneumonia, meningitis, and septicaemia in Hungary from 2006–2011. Orv Hetil (Hungarian). 155(36):1426-36. PMID: 25176517; doi.org/10.1556/oh.2014.29990
(Winner of Markusovszky Lajos award for the best original publication of the year, Orv Hetil, April 16, 2015)
Last Updated: 15 February 2023