Etsegenet Fetene Tizazu, MD, MS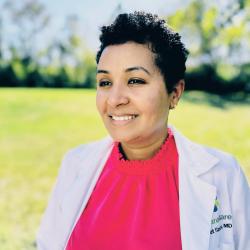 ---
More Info
Associate Scholar
 Neurologist | ChristianaCare, Department of Neurology
 Ethiopia
  Global Neurology | Health Care Delivery | International Medical Education | Telemedicine
Languages: English (Native), Amharic (proficient)
Bio statement
Dr. Tizazu is a first-generation Ethiopian-American working to advance the treatment of epilepsy in Ethiopia. She is an adult epileptologist and completed her neurology residency and epilepsy fellowship at the University of Pennsylvania. Her current work includes expanding access to neurologists via tele-neurology, forming a countrywide epilepsy curriculum and treatment guidelines as well as working with national and international partners to increase access to diagnostics and safe antiseizure medications.
Recent global health projects
Dr. Tizazu helped establish the first tele-neurology service in Ethiopia with partnership with Bahir Dar Outreach for Neuroscience Education (BORNE), an initiative addressing the disparity in neurological care. Additionally, she serves as board member of an NGO, CareEpilepsy Ethiopia, an organization dedicated to addressing epilepsy stigma and providing access to diagnostic evaluation and therapy. In this regard, she has formed the first functional International Bureau of Epilepsy (IBE) chapter in Ethiopia and formed partnerships with other organizations, such as the ROW foundation to increase access to safe antiseizure medications. Additionally, she created the first epilepsy treatment guideline and epilepsy curriculum in the country.
Last Updated: 18 October 2023