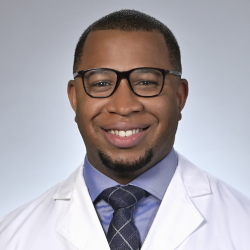 ---
More Info
Scholar
 Assistant Professor of Radiology | University of Pennsylvania
 Nigeria
  Artifical Inteligence | Enterprise Advancement | Imaging | Radiology Education
Languages: English
BIO STATEMENT
I am a cardiothoracic radiologist and director of global and population health research in Radiology at Penn. I lead multiple community-engaged data-driven research projects in Philadelphia aimed at making health care delivery and cancer care more equitable. I lead multiple research projects aimed at improving understanding of cardiovascular disease and cancer manifestation in Africa. I am also the Nigeria Program Director and Board Member of RAD-AID International, a Radiology NGO. These roles have enabled my involvement in capacity-building and education initiatives in Nigeria and other parts of Africa for almost a decade.
RECENT GLOBAL HEALTH PROJECTS
I led the installation of a Picture Archiving and Communication System (PACS) and Artificial Intelligence image interpretation solution in a tertiary hospital in Nigeria

I co-direct the Penn Radiology Global Health Imaging Case Competition focused on trainees in LMICs
Selected Publications
Mollura DJ, Culp MP, Pollack E, Battino G, Scheel JR, Mango VL, Elahi A, Schweitzer A, Dako F. Artificial Intelligence in Low-and Middle-Income Countries: Innovating Global Health Radiology. Radiology. 2020 Oct 6:201434.

Erkmen CP, Dako F, Moore R, Dass C, Weiner MG, Kaiser LR, Ma GX. Adherence to annual lung cancer screening with low-dose CT scan in a diverse population. Cancer Causes & Control.:1-8.

Dako F, Noor A, Goity L, Scanlon M. Training Radiologists for Global Service. Applied Radiology. 2022 Jan 1;51(1):34-7.

Miranda-Schaeubinger M, Noor A, Leitão CA, Otero HJ, Dako F. Radiology for Thoracic Conditions in Low-and Middle-Income Countries. Thoracic Surgery Clinics. 2022 Aug 1;32(3):289-98.

Anazodo UC, Adewole M, Dako F. AI for Population and Global Health in Radiology. Radiology: Artificial Intelligence. 2022 Jun 22:e220107.

Anazodo, U. C., Ng, J. J., Ehiogu, B., Obungoloch, J., Fatade, A., Mutsaerts, H. J., ... & Dako, F. (2022). A framework for advancing sustainable magnetic resonance imaging access in Africa. NMR in Biomedicine, e4846.

Pati S, Baid U, Edwards B, Sheller M, Wang SH, Reina GA, Foley P, Gruzdev A, Karkada D, Davatzikos C, Sako C, Dako F…..Bakas S. Federated learning enables big data for rare cancer boundary detection. Nature communications. 2022 Dec 5;13(1):7346.

Matsumoto MM, Anton K, Dixon R, DuCharme PA, Kesselman A, Dako F. Building a Team: Perspectives of Radiology Staff on Global Health Work. Journal of Radiology Nursing. 2023 Jan 6.
Elahi A, Dako F, Zember J, Ojetayo B, Gerus DA, Schweitzer A, Mollura DJ, Awan O. Overcoming Challenges for Successful PACS Installation in Low-Resource Regions: Our Experience in Nigeria. Journal of Digital Imaging. 2020 Jun 3.
Averill SL, Dako F, Pollard JH. Medical Ethics in Global Health Radiology. In Radiology in Global Health 2019 (pp. 35-47). Springer, Cham.
Mollura DJ, Soroosh G, Culp MP, Averill S, Axelrod D, Baheti A, Battino G, Buchanan K, Bueno J, Dako F, Desperito E. 2016 RAD-AID conference on international radiology for developing countries: gaps, growth, and United Nations sustainable development goals. Journal of the American College of Radiology. 2017 Jun 1;14(6):841-7.
Mollura DJ, Culp MP, Battino G,...Dako F. Artificial Intelligence in Low and Middle-Income Countries (LMICs): Innovating Global Health Radiology. Radiology. Accepted July 7, 2020
Jalloul M, Derbew HM, Miranda-Schaeubinger M, De Leon Benedetti L, Mekete Y, Jr Carbajal JA, Doherty M, Noor A, Dako F, Otero HJ. Case competition sessions: a global education and academic engagement tool. Pediatr Radiol. 2023 Aug 3. doi: 10.1007/s00247-023-05723-5. Epub ahead of print. PMID: 37535093.



Last Updated: 24 August 2023