Henrietta Audrey Ohenewaa Afari, MD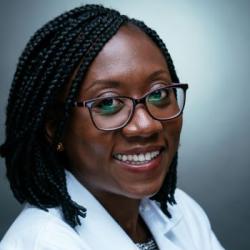 ---
More Info
Associate Scholar
 Fellow, Division of Cardiovascular Medicine | University of Pennsylvania
 Ghana
  Global Cardiovascular Disease | Women's health
Languages: English, Twi, French(limited proficiency)
BIO STATEMENT
I am a first year cardiology fellow at UPenn. Throughout my training I have spent time providing clinical care and conducting research in rural and urban settings in Ghana and Uganda. Recognizing the growing and often disproportionate burden of cardiovascular disease especially among vulnerable populations in these settings, I hope to pursue a career in global women's cardiovascular health, with a focus on heart disease in pregnant women. My goal is to use clinical research and implementation science to inform policy and help transform the face of cardiovascular care for women with heart disease in sub-saharan Africa.
Recent Global Health Projects
My prior work in global health have involved health systems research and quality improvement work. In the past, I have performed a needs assessment of barriers to emergency obstetric referrals in Assin North district of Ghana, using semi-structured interviews of healthcare workers across various facilities within the district. Findings from my work formed the basis of subsequent quality improvement efforts spearheaded by Project Fives Alive!, an Institute for Healthcare Improvement (IHI) collaborative initiative in Ghana at the time.

As a separate pursuit, I have also worked with the team at Ariadne labs at the Brigham and Women's Hospital in Boston, MA to conduct a systematic review looking at the prevalence and factors affecting burnout in low and middle income countries which was ultimately published in a peer-review journal.
Publications
1) Afari H, Hirschhorn L, Michaelis A, Barker P, Sodzi-Tettey S. Quality improvement in emergency obstetric referrals: qualitative study of provider perspectives in Assin North district, Ghana. BMJ Open 2014; 4 (5). https://pubmed.ncbi.nlm.nih.gov/24833695/

2) Dugani S, Afari H, Hirschhorn L, Martin G, Veillard J, Lagomarsino G, Basu L, Gawande A, Bitton A. Prevalence and Factors Associated with Burnout Among Outpatient Health Care Providers in Low and Middle Income Countries. Gates Open Research Jun 2018; 2:4. https://pubmed.ncbi.nlm.nih.gov/29984356/
Last Updated: 19 July 2023