Huyen Thi Hoa Nguyen, PhD, RN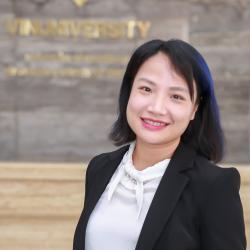 ---
More Info
International Scholar
 Associate Professor | VinUniversity College of Health Sciences, Nursing
 Australia | Vietnam
  Chronic Diseases | Mental health | Women's health
Languages: English (advanced)
Bio statement
Dr. Huyen T H Nguyen has more than 15 years teaching in nursing field. With her research interests in chronic diseases, mental health and women's health, she has joined a number of national and international research projects. Dr Nguyen joined VinUniversity firstly with a position of Curriculum Manager. She worked closely with professors from UPenn to develop and deliver courses of Bachelor of Nursing Program at VinUniversity, Vietnam. Currently, Dr Nguyen is working as a nurse researcher and lecturer at VinUniversity. While joining in teaching nursing students, Dr Nguyen has obtained a couple of internal and external research grants to conduct projects about mental health status of women after birth and of nurses/nursing students working at frontline against Covid-19
Recent global health projects
. Postpartum Depression project to develop and implement the model of "health education services" provided by nurses on postpartum depression to mothers.
Stress levels among nurses and nursing students working at the frontline against Covid-19 in Vietnam.
Selected publications

Huyen, Nguyen Thi Hoa. "Knowledge, Attitude and Practice of Parents on Maternal Care in a Mountainous District of Vietnam: A Qualitative Study." Midwifery 102 (2021): n. pag. Web.
Last Updated: 27 January 2022