Ian S. Soriano FACS, FASMBS, FPALES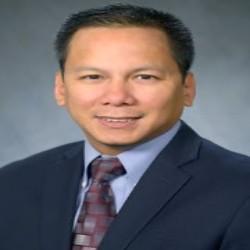 ---
More Info
Associate Scholar
 Associate Professor of Clinical Surgery | University of California San Francisco, ACS-NSQIP Surgeon Champion and APP Lead Physician at UCSF-Parnassus
 Philippines
  Laparoscopic Surgery | Robotic Surgery
Languages - Filipino/Tagalog - Native
BIO STATEMENT
I completed medical school in the Philippines and migrated to the US in 2000. After surgical residency and fellowship, I have collaborated with surgeons in the Philippines and Southeast Asia on education and training in laparoscopic and robotic surgery for the past 12 years. My joint appointment at the University of the Philippines since 2012 allowed me to participate in educational, clinical, and research projects at the university and affiliated Philippine General Hospital. More recently, my advocacy for a partnership between UPenn and UP Manila resulted in a formal agreement that encompasses clinical, research and other scholarly activities. I currently am the ACS-NSQIP Surgeon Champion and APP Lead Physician at the University of California San Francisco-Parnassus. I continue to be engaged with multiple Philippine institutions virtually as a Visiting Professor of Surgery at St. Luke's Medical Center and College of Medicine in Quezon City, Philippines and Visiting Associate Professor at the University of the Philippines College of Medicine. December 2021 I was awarded Honorary Fellow of the Philippine College of Surgeons for contributions to the advancement of minimally invasive surgery in the Philippines.
RECENT GLOBAL HEALTH PROJECTS
UPenn - University of the Philippines Manila Agreement for Educational, Scientific, Research and Scholarly Exchanges - coordinated the signing of a memorandum of understanding between Penn and the University of the Philippines Manila (health sciences campus) to provide a formal relationship for clinical exchange rotations, clinical and basic science research, participation in conferences, meetings and seminars, and consultancy services.

Ongoing visiting faculty responsibilities including participating in departmental conferences, , in-person and virtual laparoscopic and robotic surgery proctoring, virtually participating in clinical conferences.
SELECTED PUBLICATIONS
Last Updated: 02 May 2022