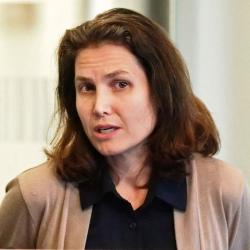 ---
More Info
Scholar
 Professor of Health Equity, Economics, and Policy | University of Pennsylvania
 India | Ghana | Indonesia | Malawi | Morocco | United States | Korea, Republic of | South Africa | Vietnam | Senegal
  Governance | Health and human rights | Healthcare Access | Healthcare Financing | Healthcare Policy | Social determinants of health
Languages: English (native), French (limited working proficiency)
Bio statement
Jennifer Prah is a leading scholar of global and domestic health policy and public health. She conducts theoretical and empirical studies of health equity to reduce global and national health inequities with a focus on the most impoverished populations worldwide, especially women and children. Dr.Prah's scholarship has scrutinized the existing global health architecture to identify more effective global health policy responses linking public policy and law to global health theory at global and national levels. Her research is conducted internationally and nationally, including in Ghana, India, Indonesia, Malawi, Malaysia, Morocco, South Korea, South Africa, United States and Vietnam. Dr. Prah was recently appointed as the Director of the Ortner Center on Violence and Abuse.
Recent global health projects
"Rethinking the management of chronic hepatitis B in the context of rural Sub-Saharan Africa: results from a social justice mixed methods study in rural Senegal (the AmBASS-PeCSen study)": Despite the early implementation of hepatitis B vaccination and the on-going decentralization of chronic hepatitis B (CHB) care, over 10% of the Senegalese adult population lives with CHB and liver cancer remains a main cause of death. Investigating factors associated with CHB infection, prevention of CHB-related morbidity, and prevention and treatment of mortality secondary to CHB calls for a holistic and multidimensional approach. This paper presents the adaptation of the health capability profile (HCP) to a specific epidemiological issue and empirical setting: it seeks to identify and analyze interrelated abilities and conditions (health capabilities) in relation to the CHB epidemic in the rural area of Niakhar, Senegal.
"Exploring the Equitable, Swift, Decisive, and Effective COVID-19 Response in Three Countries Abroad to Provide Lessons for U.S. Policymakers": The COVID-19 pandemic has revealed differences between and among societies all over the world.In America, inequities in health, social, and economic outcomes were onfull display during the pandemic.In Germany, Taiwan, and South Korea, health outcomes weremore equitable during the pandemic.This project aims to answer the question,"What are the root causes for the differences in health outcomes, equity, and justice in the US, Germany, Taiwan, and South Korea?"By identifying the values, principles, and norms undergirding institutions, policies, and practices that determine outcomes in health and equity, this project pushes ideas in health policy that are of great valuein both academia and the public sector.

Selected publications
Xu, X., Lazar, C. M., & Ruger, J. P. (2021). Micro-costing in health and medicine: a critical appraisal. Health Economics Review, 11(1), 1-8. https://healtheconomicsreview.biomedcentral.com/articles/10.1186/s13561-020-00298-5.

Ruger, J. P. (2020). Social justice as a foundation for democracy and health. bmj, 371.
https://www.bmj.com/content/371/bmj.m4049.

Ruger, J. P. (2020). The injustice of COVID-19: we need a moral constitution for our planet's health. The Lancet Planetary Health, 4(7), e264-e265. https://www.thelancet.com/journals/lanplh/article/PIIS2542-5196(20)3047-9/fulltex1t.

Ruger, J. P., Zhang, K., & Turner, E. N. (2019). Justice for Women and Society: The Case of Obstetric Fistula. Geo. LJ, 108, 1717. https://www.law.georgetown.edu/georgetown-law-journal/wp-content/uploads/sites/26/2020/06/Ruger-Zhang-Turner_Justice-for-Women-and-Society-The-Case-of-Obstetric-Fistula.pdf.

Prah Ruger, J. (2020). Positive public health ethics: toward flourishing and resilient communities and individuals. The American Journal of Bioethics, 20(7), 44-54. https://www.tandfonline.com/doi/full/10.1080/15265161.2020.1764145

Ruger, J. P., & Horton, R. (2020). Justice and Health: The Lancet-Health Equity and Policy Lab Commission. Lancet (London, England), 395(10238), 1680-1681. https://www.sciencedirect.com/science/article/pii/S0140673620309284.
Last Updated: 28 January 2022