John Holmes, PhD, FACE, FACMI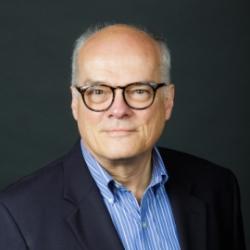 ---
More Info
Scholar
 Professor of Medical Informatics in Epidemiology | University of Pennsylvania
 Botswana | Italy | United States
  Capacity-building | Disease Surveillance | Epidemiology | Informatics | Injury Prevention
Languages: English (fluent), Italian (fluent), French (intermediate)
BIO STATEMENT
John H. Holmes, PhD, is Professor of Medical Informatics in Epidemiology in the Department of Biostatistics, Epidemiology, and Informatics. He is Associate Director of the Penn Institute for Biomedical Informatics and chairs the Doctoral Program in Epidemiology. He has mentored pre- and post-doctoral students at Penn, University of Botswana, and Universities of Pavia and Verona, Italy. Dr. Holmes is engaged with the Botswana-UPenn Partnership, assisting in building informatics and epidemiologic research capacity in Botswana. He is an elected Fellow of the American College of Medical Informatics, the American College of Epidemiology, and the International Academy of Health Sciences Informatics.
RECENT GLOBAL HEALTH PROJECTS
1. Training in injury epidemiology in Botswana (D43): I assist with mentoring MSCE students from Botswana while they are at Penn and on their return. I provide one-week in-country short courses for research associates in databases, clinical research design, and information resources.I also work with the associates on the design and collection of data for traffic injury studies in Gaborone and environs. This activity is ongoing.
2. Supervised a PhD student at the University of Pavia and worked with site PI there on the PULSE project, which is a multi-city, multi-country project to investigate the use of mobile health modalities to improve urban living environments in Europe and the US. I provided consultation on creating agent-based models of pollution and effects on clinical outcomes such as asthma exacerbations and heart disease. This activity is continuing.
SELECTED PUBLICATIONS
Pala D, Holmes J, Pagán J, Parimbelli E, Rocca MT, Casella V, Bellazzi R: Agent-based models and spatial enablement: A simulation tool to improve health and wellbeing in big cities. AIME 2019. Artificial Intelligence in Medicine, in press.
Ha Y, Tesaful M, Littman-Quinn R, Antwi C, Bellamy S, Green R, Ncube R, Mugisha K, Ho-Foster A, Luberti A, Holmes JH, Kovarik C: Evaluation of a mobile health approach to tuberculosis contact tracing in Botswana. Journal of Health Communication, 21:1115-1121, 2016.
Witt R, Kebaetse MB, Holmes JH, Ketshogileng D, Littman-Quinn R, Antwi C, Kovarik C, Nkomazana O: The role of tablets in accessing and exchanging information in undergraduate medical education in Botswana. International Journal of Medical Informatics 88:71-77 (2016).
Nelson CA, Takeshita J, Wanat KA, Bream KDW, Holmes JH, Koenig HC, Roth RR, Vaidya KA, James WD, Kovarik CL: Impact of store-and-forward (SAF) teledermatology on outpatient dermatologic care: a prospective study in an urban underserved primary care setting. Journal of the American Academy of Dermatology, 74(3):484-90, 2016.
Last Updated: 27 January 2022