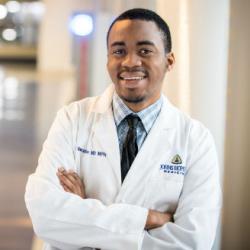 ---
More Info
Associate Scholar
 Resident Physician | University of Pennsylvania
 Mexico | South Africa | United States
  Health Systems Strengthening | Refugee health
Languages: English (native), Spanish (fluent), French (proficient), Arabic (basic)
Bio statement
Joseph Nwadiuko is a General Internal Medicine Fellow at the University of Pennsylvania. Having worked in 8 nations, his broad interest is in the intersection of global health systems, physician and patient migration, and behavioral economics. He has been published in JAMA, The Lancet, spoken at the State Department and USAID, and is an consultant for the World Bank Migration and Remittances Unit. His career goals involve academic service and health system strengthening in a LMIC context. He completed a MPH and his residency at Johns Hopkins, an MD at the University of Pittsburgh, and his BA at Amherst College.
Recent global health projects
Guadalajara Mexico: Clinical Rotation at the Hospital Civil de Guadalajara, August 2017
South Africa: Completing a long term project analyzing physician migration trends from 1991-2017 between South Africa and Australia, Canada, New Zealand, the US and the UK.
Selected publications
Nwadiuko J, Varadaraj V, Ranjit A (2018). International Medical Graduates—A Critical Component of the Global Health Workforce. JAMA. 2018;319(8):765-766
Nwadiuko J, Sander L (2017). Simplifying Care: When is the Treatment Burden Too Much for Patients Living in Poverty? BMJ Quality and Safety, 27:484–7
Nwadiuko J, Switzer G, Stern J (2016). Giving Back: A mixed methods study of the contributions of US-Based Nigerian physicians to their home country. Globalization and Health; 12(1):33
Nagarajan, N., Smart, B. and Nwadiuko, J. (2015). Diaspora engagement in humanitarian emergencies and beyond. The Lancet, 386(9998), pp.1015-1016.
Last Updated: 25 February 2022