Kumarasen Cooper, MD, PhD.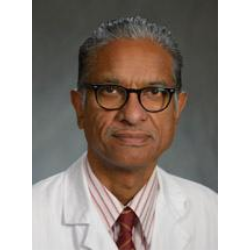 ---
More Info
Scholar
 Professor of Pathology and Laboratory Medicine
 South Africa
  Surgical Pathology | Teaching
Languages: English (native)
BIO STATEMENT
I have spent two months/year since 2016 at University of Botswana (under umbrella of UB-Penn Partnership) teaching and training residents at UB. Since April 2017, seven Penn Pathology residents, one medical student and one pathology assistant, have accompanied me and teaching UB residents. In addition i have performed clinical work (signed out surgical pathology cases with residents) on a regular basis. My Penn residents have taught a broad range of subjects in surgical pathology with much enthusiasm. In return we have brought two Botswana residents (month each) to spend an elective at Penn Pathology. A third cancelled May 2020.
RECENT GLOBAL HEALTH PROJECTS
Much of my efforts thus far have involved my energy in teaching and training. I also advised and mentored UB residents embarking on Pathology research programs essential for their graduation.
SELECTED PUBLICATIONS
Rohini K. Bhatia, Mohan Narasimhamurthy, Yehoda M. Martei, Pooja Prabhakar, Jeré Hutson, Sebathu Chiyapo, Ignetious Makozhombwe, Michael Feldman, MukendiK.A.Kayembe, Kum Cooper, Surbhi Grover. Clinico-pathological features of breast cancer and HIV: a report from Botswana. Infectious Agents and Cancer, 14, October 2019.
Munjal K, Adamson C; Rajendran, V; Nandedkar, S; Cooper, K; Evans, Mark FL. Human Papillomavirus Type Distribution in Invasive Cervical Cancers from Madhya Pradesh: Implications for Vaccination Programs in Central India. International Journal of Gynecological Pathology: September 2014 - Volume 33 - Issue 5 - p 531-536.
Last Updated: 27 January 2022