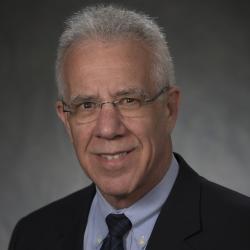 ---
More Info
Scholar
 Professor of Medicine | University of Pennsylvania
 Botswana | Greece | Haiti | Rwanda
  Delivery infrastructure | Global Oncology | Implementation research
Languages: English (native)
Bio statement
I am Deputy Director for Clinical Services, and Director, Center for Global Cancer Medicine in the Abramson Cancer Center at Penn. I am a practicing medical oncologist with a specialization in breast cancer. I have worked with Paul Farmer's organization, Partners In Health, in Rwanda and Haiti since 2011, helping to lead the establishment of cancer programs at both sites. Since coming to Penn I have engaged in similar work in Botswana. I have also worked with WHO to update the Essential Medicines List for Cancer. I serve on the International Affairs Committee of the American Society of Clinical Oncology.
Recent global health projects
Read Dr. Shulman's recent blog post on his breast cancer work in Rwanda.
Establishment and improvement of cancer care delivery for Rwanda and Haiti.
Helping the American Society of Clinical Oncology define and develop an academic track for global cancer medicine.

Selected publications
Mpunga T, Tapela N, Hedt-Gauthier BL, Milner D, Nshimiyimana I, Muvugabigwi G, Moore M, Shulman DS, Pepoon JR, Shulman LN. Diagnosis of cancer in rural Rwanda: Outcomes of a phased approach to implement anatomical pathology services in resource-limited settings. Am J Clin Pathol 2014; 142(4):541-5. doi: 10.1309/AJCPYPDES6Z8ELEY
Shulman LN, Mpunga T, Tapela N, Wagner C, Fadelu T, Binagwaho A. Bringing cancer care to the poor: experiences from Rwanda. Nature Rev Cancer 2014; 14:815-21. doi: 10.1038/nrc3848.
Coleman C, Formenti SC, William TR, Petereit DC, Soo KC, Wong J, Chao N, Shulman LN, Grover S, Magrath I, Hahn S, Liu F, DeWeese T, Khleif S, Steinberg M, Roth L, Pistenmaa DA, Love RR, Mohiuddin M, Vikram B. The International Cancer Expert Corps: a unique approach for sustainable cancer care in low and lower-middle income countries. Front Oncol 2014; 4:333. doi:10.3389/fonc.2014.00333.
Grover S, Balogun OD, Yamoah K, Groen R, Shah M, Rodin D, Olson AC, Slone JS, Shulman LN, Coleman CN, Hahn SM. Training global oncologists: Addressing the global cancer control problem. Front Oncol 2015; 5:80. doi:10.3389/fonc.2015.00080.
Olson AC, Coleman CN, Hahn SM, DeWeese TL, Shulman LN, Chabner BA, Chao N, Martei YM, Mundt AJ, Grover S. A roadmap for new academic pathway for global radiation oncology. In J Radiation Oncol Biol Phys 2015;93(3):493-6. doi:10.1016/j.ijrobp.2015.06.023.
Riesel J, Mandigo M, Gillies R, Damuse R, Farmer P, Cusack J, Krakauer E, Shulman LN. Surgical palliative care in resource-limited settings. Lancet 2015; 386(9993):527. doi:10.1016/S0140-6736(15)60307-5.
Pace LE, Mpunga T, Hategekimana V, Dusengimana JMV, Habineza H, Bigirimana JB, Mutumbira C, Mpanumusingo E, Ngiruwera JP, Tapela N, Amoroso C, Shulman LN, Keating NL. Delays in breast cancer presentation and diagnosis at two rural referral centers in Rwanda, The Oncologist 2015; 20:1-9. doi: 10.1634/theoncologist.2014-0493.
Stulac S, Binagwaho A, Tapela N, Wagner C, Muhimpundu M, Ngabo F, Nsanzimana S, Kayonde L, Bigirimana J, Lessard A, Lehmann L, Shulman LN, Nutt C, Drobac P, Mpunga T, Farmer P. Capacity building for oncology programs in sub-Saharan Africa: the Rwanda experience. Lancet Oncol 2015; 16: e405–13. doi: 10.1016/S1470-2045(15)00161-8.
Son BH, Dominici LS, Aydogan F, Shulman LN, Ahn SH, Cho JY, Coopey SB, Kim SB, Min HE, Valero M, Wang J, Caragacianu D, Gong GY, Hevelone ND, Baek S, Golshan M. Young women with breast cancer in the United States and South Korea: comparison of demographics, pathology and management. Asian Pac J Cancer Prev 2015; 16:2531-5.
Shulman LN, Wagner CM, Barr R, Lopes G, Longo G, Robertson J, Forte G, Torode J, Magrini N. Proposing essential medicines to treat cancer: Methodologies, processes, and outcomes. J Clin Oncol 2016; 34(1):69-75. doi: 10.1200/JCO.2015.61.8736.
1. Hricak H, Abdel-Wahab M, Atun R, Lette MM, Paez D, Brink JA, Donoso-Bach L, Frija G, Hierath M, Phil M, Holmberg O, Khong PL, Lewis JS, McGinty G, Oyen WJG, Shulman LN, Ward ZJ, Scott, AM Medical Imaging and Nuclear Medicine: a Lancet Oncology Commission. Lancet 2021
Last Updated: 27 January 2022