Marietta Ambrose, MD, MPH, MSEd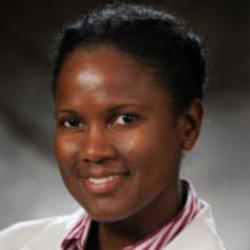 ---
More Info
Scholar
 Associate Professor of Clinical Medicine | University of Pennsylvania
 Haiti | Jamaica | Kenya
  Global Cardiovascular Disease
Languages: English (native)
BIO STATEMENT
I am a cardiologist with additional training in advanced cardiovascular imaging and women's health, and an interest in improving global cardiovascular health. I am the director of Penn Cardiology International (University of Pennsylvania Cardiology Division's International Outreach Section), and I lead its effort to contribute to improving global cardiovascular health. We develop relationships with mutually aligned institutions, to create sustainable programs and infrastructure that are aimed at delivery of excellent cardiovascular care. Our active collaborations with our global community members occur through research, education, training and clinical activity.
RECENT GLOBAL HEALTH PROJECTS
Dr Ambrose directs the Penn Cardiology International (PCIL), which is HUP's cardiovascular medicine division's global outreach section. One of PCIL's current initiatives concentrates on improving healthcare in the Caribbean region, via collaboration with Jamaica's Heart Institute of the Caribbean (HIC). HIC is a regional cardiovascular medicine center of excellence which has been improving the quality of cardiovascular healthcare in the Caribbean. HIC provides higher level management of cardiovascular diseases (CVD) through utilization of suitable, affordable technology and innovation. Currently, PCIL provides a monthly series of continuing medical education (CME) teleconferences to HIC. This teleconference seeks to improve HIC's immediate delivery of heart failure care, with a long-term goal to create an advanced heart failure program. In the future, PCIL hopes to increase engagement of Penn cardiologists and trainees at HIC, and to develop relationships with other Caribbean institutions.
Delivery of cardiology education by creating a virtual curriculum for resident trainees in Haiti. Also participating in the teaching.
Worked with Vinmec in Vietnam to help create a cardiology center of excellence before the COVID-19 pandemic occurred and hindered further collaboration.
SELECTED PUBLICATIONS
Haynes NA, Saint-Joy V, Swain J, Ezekwesili A, Vernet FV, Dawson C, Laneau D, Tierney A, Shea JA, Ambrose MS. Implementation of a virtual international cardiology curriculum to address the deficit of cardiovascular education in Haiti: a pilot study. BMJ Open. 2021 Jun 21;11(6):e048690.
https://bmjopen.bmj.com/content/11/6/e048690.long
Zhao H, O'Quinn R, Ambrose M, Jagasia D, Ky B, Wald J, Ferrari VA, Kirkpatrick JN, Han Y. Contrast-Enhanced Echocardiography Has the Greatest Impact in Patients with Reduced Ejection Fractions. J Am Soc Echocardiogr. 2018 Mar;31(3):289-296. doi: 10.1016/j.echo.2017.09.003. Epub 2017 Oct 27. PubMed PMID: 29111122.
Tamariz L, Agarwal S, Soliman EZ, Chamberlain AM, Prineas R, Folsom AR, Ambrose M, Alonso A. Association of serum uric acid with incident atrial fibrillation (from the Atherosclerosis Risk in Communities [ARIC] study). Am J Cardiol. 2011 Nov 1;108(9):1272-6. doi: 10.1016/j.amjcard.2011.06.043. Epub 2011 Aug 17. PubMed PMID: 21855838; PubMed Central PMCID: PMC3404126.
Last Updated: 28 March 2023