Meredith Rose Hickson, MD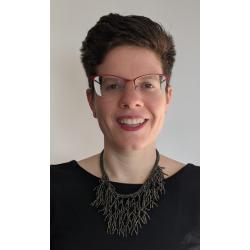 ---
More Info
Associate Scholar
 Pincus Global Health Fellow | Global Health Center, Children's Hospital of Philadelphia
 Botswana | Uganda | Senegal
  Health Systems Strengthening | Implementation Science | Pediatric Critical Care | Pediatric Hospital Medicine
Languages: English (Native), French (professional proficiency), Fulani (professional proficiency), KiSwahili (elementary proficiency)
Bio statement
Dr. Hickson graduated from the University of Michigan Medical School and completed pediatrics residency at the Children's Hospital of Philadelphia. She started working in global health as a Peace Corps Volunteer in Senegal, where she supported rural health facilities and community health workers as a Preventative Health Educator. During medical school, Dr. Hickson was a NIH-Fogarty Fellow in Uganda. Her research there focused on the impact of severe malaria infection and placental malaria on children's neurodevelopment. Dr. Hickson is currently a CHOP-Pincus Global Health Fellow in Botswana, where she is engaged in both inpatient care of children and neonates at Botswana's national referral hospital and implementation research on a new Pediatric Early Warning System to improve outcomes for hospitalized children. Her role also includes mentorship and education of medical students and residents at the University of Botswana. Dr. Hickson's global focus is on strengthening tertiary care—referral systems, inpatient care, and escalation of care—for children in low-resource settings.
Recent global health projects
During her Fogarty Fellowship in Uganda, Dr. Hickson supported a long-term follow-up study of children whose mothers were diagnosed with placental malaria in pregnancy. Participants' neurologic and behavioral development was followed for multiple years after birth to determine whether placental malaria has long-term consequences for child development.

As a CHOP-Pincus Global Health Fellow in Botswana, Dr. Hickson is currently leading the implementation and evaluation of a Pediatric Early Warning System (PEWS) at the national referral hospital. PEWS uses a predictive clinical score to identify hospitalized children at risk for clinical deterioration. This implementation study involves the adaptation of PEWS for Botswana in collaboration with nurses and nurse educators, quantitative evaluation of PEWS performance, and qualitative evaluation of providers' experiences with the new system.
Selected publications
Lowenthal E, Matesva M, Marukutira T, Bayani O, Chapman J, Tshume O, Matshaba M, Hickson M, Gross R. Psychological reactance is a novel risk factor for adolescent antiretroviral treatment failure. AIDS and Behavior. 2021 May;25(5):1474-9. (https://link.springer.com/article/10.1007/s10461-020-02986-z)

Japa I, Ancha B, Custodio A, Ohrenschall R, Cordero R, Deverlis A, Chapman J, Hickson MR, Steenhoff AP, Lowenthal ED. Effectiveness of Deworming with Single-Dose Albendazole for Preschool-Aged Children in the Dominican Republic. Global Pediatric Health. 2021 Mar;8:2333794X211002949. (https://journals.sagepub.com/doi/full/10.1177/2333794X211002949)

Ssemata AS, Hickson M, Ssenkusu JM, Cusick SE, Nakasujja N, Opoka RO, Kroupina M, Georgieff MK, Bangirana P, John CC. Delayed iron does not alter cognition or behavior among children with severe malaria and iron deficiency. Pediatric research. 2020 Sep;88(3):429-37. (https://www.nature.com/articles/s41390-020-0957-8)

Hickson MR, Conroy AL, Bangirana P, Opoka RO, Idro R, Ssenkusu JM, John CC. Acute kidney injury in Ugandan children with severe malaria is associated with long-term behavioral problems. PloS one. 2019 Dec 17;14(12):e0226405. https://journals.plos.org/plosone/article?id=10.1371/journal.pone.0226405)
Last Updated: 19 September 2022