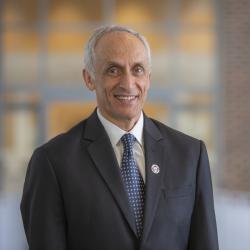 ---
More Info
Scholar
 Executive Director for the Center for Integrative Global Oral Health
 Israel
  Oral Health
Languages: English | Swedish | Hebrew
BIO STATEMENT
Michael Glick is Professor and Executive Director, Center for Integrative Global Oral Health, School of Dental Medicine, University of Pennsylvania.
Dr. Glick has authored more than 300 publications, including original research articles, editorials, and book chapters, and has written, edited, and co-edited 10 textbooks.
Dr. Glick is the immediate past Dean, School of Dental Medicine, University at Buffalo, past-President of the American Board of Oral Medicine, served as Editor-in-Chief of The Journal of the American Dental Association from 2005 to 2020 and was the primary author of FDI/World Dental Federation's Vision 2020 and, most recently, Vision 2030.
RECENT GLOBAL HEALTH PROJECTS
Dr. Glick launched the Center for Integrative Global Oral Health in July of 2021. Since then, as Executive Director, he has created a Lecture Series that invites academics, policymakers, and advocates to speak on their area of expertise. Free and available to all, the Lecture Series generates thoughtful discussion and posits questions about the future of oral health. Dr. Glick also served a leading role in establishing the FDI (World Dental Federation) Vision 2030 Report. As one of the main contributing authors, Dr. Glick gave the FDI guidance on the importance of integrating oral and general health, and helped to generate strategies to combat global oral health inequalities.
SELECTED PUBLICATIONS
Glick M, Monteiro da Silva O, Seeberger GK, Xu T, Pucca G, Williams DM, Kess S, Eiselé J-L, Séverin T. FDI Vision 2020. Shaping the Future of Oral Health. FDI World Dental Federation; 2012. https://www.fdiworlddental.org/sites/default/files/2021-02/Vision-2030-Delivering%20Optimal-Oral-Health-for-All_0.pdf

Glick M, Williams DM, Ben-Yahya I, Bondioni E, Cheung WWM, Clark P, Jagait CK, Listl S, Mathur MR, Peter Mossey P, Ogawa H, Seeberger GK, Sereny M, Séverin T. Delivering Optimal Oral Health for All. FDI Vision 2030. FDI World Dental Federation; 2021
vision-2030-delivering-optimal-oral-health-for-all_0.pdf (fdiworlddental.org)
Last Updated: 28 February 2022